The following post is from Melissa of The Cork Board: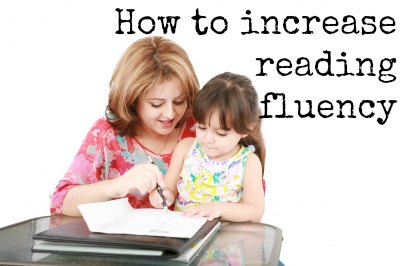 So you've done the phonics thing and the reading light bulb is starting to come on. Now to get past that choppy, staccato stumbling over words to fluent reading for comprehension.
Steps to Increase Reading Fluency
Choose reading material below level.
When you're working on fluency, you want to be able to focus on flow and inflection. This is best done with familiar words. It's also a good idea to choose a shorter text.
Make a list of unfamiliar words.
If the text happens to have any unfamiliar words, review those first so they don't cause extra stumbling as your child reads. For each word, have the child sound it out, then repeat it after you. At the end, have the child review the list by reading. Encourage him to do it the "fast" way or without sounding out.
Start with the title.
Have the child read one word at a time, stopping to sound words out, if necessary. Ask the child to read the entire title the "fast" way. Respond with, "Good job! The title is …" That way the child can hear you say the title with fluency and inflection and your voice engages another sensory system.
Sentence-by-sentence.
Similar to the title, have the child read each word in a sentence, slowly. Then, ask the child to repeat the sentence the "fast" way. End with repeating the sentence back to the child. If you think the child needs a little more practice, have him repeat the sentence one more time after he hears you say it. Work through the entire text in this fashion giving lots of praise and encouragement.
Pulling it all together.
At the end, go through and read the entire story to your child. As his fluency increases, you can have him read the entire story to you the "fast" way, too.
Focus on comprehension.
After the last read through, ask a couple basic comprehension questions.
The process may seem tedious and slow (remember that hint about short texts?), but the repetition and practice will pay off! If you have other tips on increasing fluency, please comment and share.

Photo courtesy of David Castillo Dominici | FreeDigitalPhotos.net
| | |
| --- | --- |
| | Melissa is a photography-dabbling, primal-eating, housework-hating, triathlon-trying, homeschooling, black belt-seeking, grace-needing mom to 6 kids ages 7 to 16.  Passionate about orphan and widow care, her family co-founded The Grafted and recently started Cafe Tesfa, a place that offers job training for at-risk youth. She blogs about adoption, homeschooling, wellness, and life at The Cork Board. You can keep up with Melissa on Facebook, Pinterest, Flickr and Twitter. |
Join 40,000+ Other Awesome People
Subscribe to the Real Life at Home weekly newsletter to get our latest content, exclusive free printables, learning activities, and ideas for celebrating with your kids all year