The following is a post by Tina of Kidz Activities.  
Do you have a lot of scrap paper? I'm talking about the small bits of colored paper from a craft or those odd bits of wrapping paper that usually get thrown out. Instead of throwing those out, why not let the kids create some DIY Valentine Cards with it?
Here are some simple ideas for DIY Valentine cards for children, which were inspired by these Christmas Cards that we made using scrap paper last year. All these cards are easy to make. Some of these are easy enough even for preschoolers to make on their own.
DIY Valentine Cards for Kids
What you need:
Blank white cards
Scrap paper – cut up strips and punched out circles. We used red and pink shades of scrap paper.
A heart shape (optional, because an adult can also draw this freehand)
Glue stick
How to make these DIY Valentine Cards:
This DIY activity consists of basic cutting and gluing skills. School-aged children can really do this without help, while preschoolers can also make them with minimal guidance from adults.
DIY Valentine Card #1: A 4-year-old's creation
Glue different strips of scrap paper horizontally on a white card, creating a stripe pattern.
Cut out 2 heart shapes in slightly different sizes (this part was done by an adult).
Then glue the bigger heart shape on top of the striped design. After that, you can put the smaller heart shape on top of that.
DIY Valentine Card #2: The striped heart design
Glue a heart shape cut out on a white card.
Adhere strips of scrap paper within the heart shape.
This design is more for an older child, who has some scissor skills. It can also be done by a preschooler, but with the help of an adult. Although the craft involves simple gluing, we cut the ends of the strips of paper to follow the outline of the heart shape.
DIY Valentine Card #3: Valentine Card designed by a 10-year-old
In order to encourage creativity, I gave the materials we worked with to my 10-year old. She independently came up with her own DIY Valentine Card design.
She first glued a heart shape in the middle of a white card.
Then cut up strips of scrap paper to create a striped design within the heart.
She finished this off by lining the outline of the heart shape with punched out circles.
Creating DIY Valentine Cards doesn't have to be difficult. With bits of scrap paper and simple sticking skills, your child can come up with a beautiful card to give to their loved ones. So let your child surprise grandma, grandpa or even dad with one of these beautiful handmade DIY Valentine cards.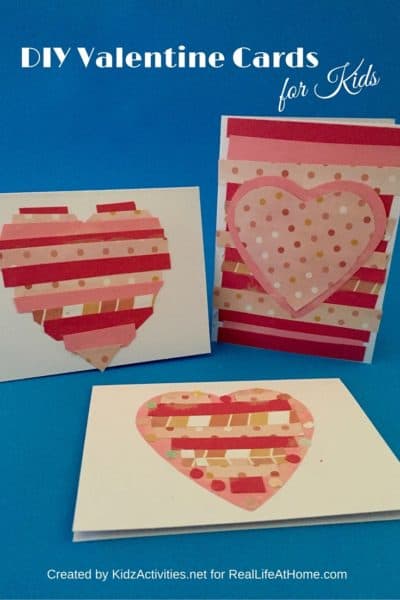 If you have younger kids at home, consider creating a keepsake of your child's little hands and feet using these free printable Valentine's Day crafts.
Other Posts You Might Enjoy:
Join 40,000+ Other Awesome People
Subscribe to the Real Life at Home weekly newsletter to get our latest content, exclusive free printables, learning activities, and ideas for celebrating with your kids all year