Easy Ways to Celebrate Saint John the Baptist is a post by contributing writer Dianna of The Kennedy Adventures.
As a Catholic mom, studying our array of Catholic saints is a way of life. These holy men and women lived extraordinary lives and stand as an example to us.
Usually, we keep it simple, with a coloring page or book, but other times, we get more involved, adding in crafts, activities, printables or even movies.
In June, we celebrate the Nativity of St John the Baptist on June 24th. Later in the liturgical year, we commemorate his death with the Passion of St John the Baptist on August 29th. You could even pay homage to him during the Baptism of Our Lord.
Gathering ideas and resources can be a little overwhelming for busy moms. I've gathered some of our favorite ways to celebrate — don't feel compelled to do EVERYTHING. Pick and choose the ideas that work for you.
Crafts to Celebrate St John the Baptist
My children LOVE crafts, but I'll be honest. They usually turn me into Mean Mom — the prep and eventual mess wear me out.
These ideas are quick and simple, but still have plenty of fun factor for your children.
My children created this John the Baptist seashell in a religious education class, and they turned out adorable.
Ready for some playdough time? This honey playdough is perfect for inspiring discussion about St John the Baptist.
Jesus' Baptism, depicted in LEGOs? I know my boys would adore this idea! Scroll down to see Jesus and John the Baptist.
Grab your egg cartons and paint, and let your little artists have a blast making locusts.
My kids have been asking when we can do this Baptism of Jesus craft — how cute is this?
Foods to Celebrate St John the Baptist
What better way to celebrate and learn about a saint than with food?
Making a special dish can help get your kids involved in the kitchen, and provides wonderful conversation for lunch.
"Why in the world are we making locusts and honey?" That's the perfect segue to explain how St John lived in the wilderness, like a Bible version of Survivor.
(It's also a chance to offer thanks for the way we live now — we have a roof over our head, and we don't have to live directly off the land.)
Ideas for foods to serve:
Locusts and Honey
Grasshopper Parfaits
A liturgical tea is another way to bring a group together over delicious food to celebrate the saints. This would make a wonderful Catholic playgroup — invite a few of your friends!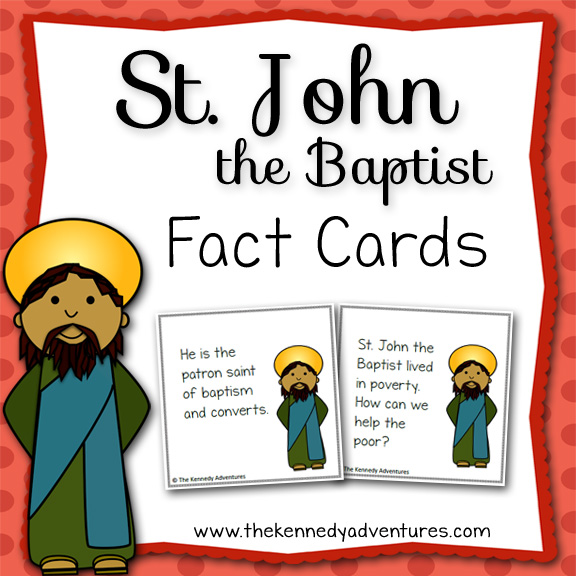 Learning Activities for Saint John the Baptist
As a homeschooling mom, it's my nature to turn everything into a lesson. If you're looking for ideas to teach your children a little more about this amazing man, take a look at some of these ideas.
Fun Fact Cards are incredibly versatile. You can use them as calendar cards, as a bulletin display, or simply bring them out to explore the facts about St John.
Need a lesson plan to teach your children about St John the Baptist's birth? Don't miss this resource,complete with craft ideas.
Interactive group activities, like these from Sermons 4 Kids, sound like so much fun. I know we'd love the sandal relay — perfect for burning off steam.
Post continues after this brief information about a monthly membership to help you live the liturgical year
---
Monthly Liturgical Membership
Perfect for families! Each month you gain access to printable activity pages, crafts, home altar pieces, and more.
Never has living the liturgical year been so easy and affordable!
---
Dress up isn't just for girls. Get your boys involved with this DIY St John the Baptist Costume. Plus, you'd have your costume all ready for All Saints Day! (No sewing required!)
Over at Catholic Culture, you'll find Mass readings, along with ideas for celebrating and a peek into how this feast day looks in other parts of the world, like Brazil.
Books about St John the Baptist
Around our home, we use Catholic picture books to help teach our children about the saints. Each month, I take a look at the saints that we want to learn more about, then create my list. During morning time, we set aside time to learn more.
For St John the Baptist, take a look at some of our favorites:
Lives and Legends of Saints
Saints and Angels
Loyola Kids Book of Heroes

Need more ideas? Check out the Catholic Book Basket list for June.
Movies about St John the Baptist
Looking for a twist on books? There are even movies about St John the Baptist available.
The Saints DVD: This Brother Francis DVD is an excellent addition to your Catholic library! In this episode, you'll meet St John the Baptist, St John Bosco, St Dominic Savio and more!
Friends and Heroes: Gladiator School – One of our new favorites — my children LOVE watching this series where the Bible comes alive.
This episode covers the story of Amos speaking out and the preaching of John the Baptist.
I even hopped over to YouTube and searched for videos there — there were a handful there as well, that would be perfect for sharing with young children.
John the Baptist and the Baptism of Jesus — in LEGOs
Zechariah, Elizabeth, and the birth of John the Baptist
I also found clips from a series of movies from SuperBook — CGI animated stories of the Bible. They are beautiful, and I'm thinking about purchasing some for our family!
John Baptizes Jesus
The Birth of John
Herod Arrests John the Baptist

Catholic Printables for St John the Baptist
While you're reading some of the books above, keep little hands busy with some of these Catholic printables.
Mom tip: Print some of these out and put them in your purse for Mass for your children.
June Saints Word Search
August Saints Word Search
St John the Baptist Coloring Page (scroll down for the saints)
St John the Baptist Crossword Puzzle
St John the Baptist Notebooking Page
I'd love to hear from you — what's your favorite way to celebrate the saints in your home?
Join 40,000+ Other Awesome People
Subscribe to the Real Life at Home weekly newsletter to get our latest content, exclusive free printables, learning activities, and ideas for celebrating with your kids all year