Six Tips for Stress Free Spring Cleaning is a post from Carlie Kercheval.
Spring is in the air! Regardless of where you live, longer days and more light give most of us the urge to get busy and do something productive.
In addition to planning the next school year, spring cleaning is high on the agenda for these beautiful new long days ahead. In accomplishing this task, I have managed to maintain a stress free spring cleaning environment for the past decade.
Tips for a Stress Free Spring Cleaning with Your Family
Below you will find a few practical tips to help you have a stress free spring cleaning for both indoors and outdoors. Following the list beneath is a link to a sample schedule that mimics the format my family uses to help you implement these tips.

Pick a scripture for your spring cleaning agenda.
Every year, we kick off the spring cleaning festivities with a scripture that we speak and pray over our time from start to finish. We have found this to be an amazing tool in keeping a positive attitude while working towards our goals.
Get the entire family involved.
I have found over the years that all walking family members (with the exception of pets) can help effectively reach the goal of deep cleaning inside and outside of your house in the spring. Giving age appropriate tasks lighten the load for everyone while giving the children a sense of security in the role they play in the family as well as a sense of accomplishment.
It also gives the children time management skills and the chance to practice obedience and diligence while uniting the family on a common purpose. Family unity at it's finest.
Related Reading: 20 Chores Your Preschooler Should Be Doing
Set realistic goals.
To some, this is common sense, but for those with Type A personalities like myself, it can be tough to remember. When we work hard to match the task with the appropriate age and skill level, it makes for a fool-proof recipe of success.
Related Reading: Age Appropriate Chore Lists
Plan it over the course of 1 – 3 weeks to make room for living life and enjoying each other while cleaning.
We have found it much easier to section off the common tasks and spread them out over the course of two to three weeks.
Of course every family is different based on size of home, location, work schedules, number of family members helping, etc., so you can decide how long is best for your family dynamic.
And if something doesn't work, just modify it, no big deal. 
Be flexible!
I cannot stress this enough. It is so important to allow for "life" to happen while accomplishing such a large task. It keeps the productivity high when the children (and even our spouse) know that we will be flexible.
Related Reading: How to Make a Cleaning Schedule that Works
Celebrate your accomplishment!
Each year at the conclusion of our spring cleaning, we celebrate with either a small party at home to include a night of fun games or a special dinner out coupled with an activity.
This tradition for us has built a family bond that is compatible with our love for Christ and serving others. It is a true joy to see!
To find a sample 1-week schedule my family and I use during this ever-so-important time of the year, click HERE.
Other Posts You May Love: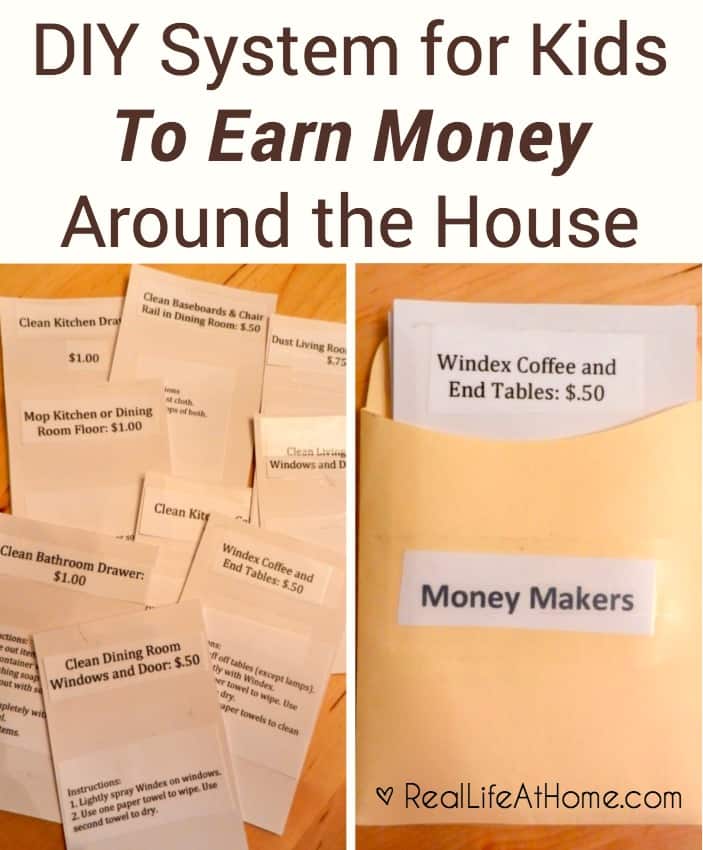 This one is a great chore system whether you decide to involve a monetary element or not.
---
Disclosure: This post contains affiliate links. Shopping through them does not change the price you pay. However, we may receive a small compensation when you do. Thanks!
Join 40,000+ Other Awesome People
Subscribe to the Real Life at Home weekly newsletter to get our latest content, exclusive free printables, learning activities, and ideas for celebrating with your kids all year