Ways for Kids to Earn Money Around the House is a post by Sarah Small of SmallWorld at Home.
If your kids are like mine, they love to have a little cash on hand. While we do give our children a weekly allowance (see Our Allowance System), they are often looking for ways to earn more money. My youngest enjoys a few extra dollars to buy Lego sets or, more often, candy. My daughter has her eyes on saving for big-ticket items, like a nice camera.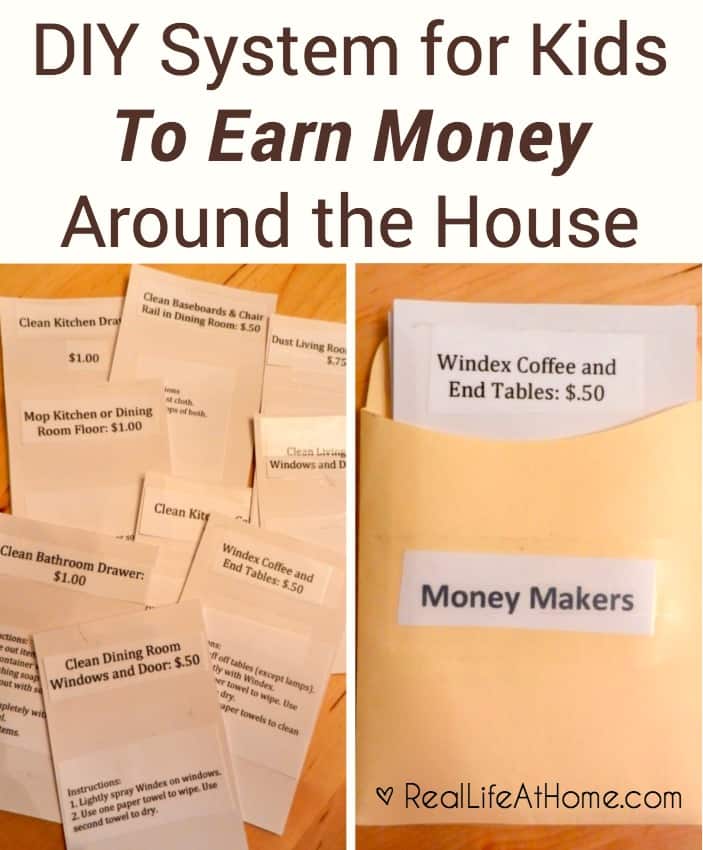 My problem has always been that, while I know there are lots of extra jobs that need done around the house, I can never think of them when the kids seem to want them. Here is how this usually happened at our house:
Son: Mom, I really want a new Lego set but I don't have any money. What jobs can I do to earn money?

Me: (cutting up vegetables, keeping my eye on the pot on the stove, tripping over the dog in the middle of the kitchen floor) Ummmm. I really can't think of anything right now. Ask me later.
And then the moment passes. I've lost my opportunity to get some jobs done, and he has lost interest (until the next time I am making dinner).
I finally took the time to come up with a system that I wish I had thought of years ago: our Money Makers file.
DIY Chore System for Kids to Earn Money Around the House
First, I had to really think about jobs that are useful, not just token jobs to earn a few quarters. These fall into three categories:
regular household cleaning jobs (such as dusting and watering plants)
extra jobs I would love to have done but seldom have the extra time to do them (such as cleaning out kitchen cabinets)
outdoor jobs (pulling weeds, picking up sticks, etc.)
Next, I decided how much each job is worth based on the amount of work that goes into it and how much I would like someone else to do this job! Cleaning out a kitchen cabinet, for example, is low on my own cleaning priority list but something I would love to have done, so this is a $2 job. Dusting, on the other hand, is a quick and easy job for me, so it only pays 75 cents.
Then I made out a separate index card for each job that includes the name of the job, its price, and step-by-step instructions. Writing out instructions for each task took some time, but having these guidelines is essential.
While my teenage daughter could do any of the jobs without guidance, my 11-year-old son needs written instructions. These are quite detailed because, well, he is an 11-year-old boy. So, for example, here are the instructions for how to clean our glass coffee and end tables:
Clear stuff off tables (except lamps)
Spray lightly with Windex.
Use one paper towel to wipe. Use second paper towel to dry.
Use the same paper towels to clean base of lamps.
Replace items.
I covered the cards with clear packing tape so that they can be taken along on the task without getting ruined. If you have a laminator you could use that. When a task is completed, my kids turn the card over and mark the date. When I pay them, I mark that. (I don't always have cash available to pay immediately!)
We keep the job cards in a library card holder on the refrigerator. I initially came up with about a dozen jobs but have been adding to them as we get into all the summer jobs that need doing.
This simple system provides a constant source of income for my kids—if they choose to use it—and gets some nitty gritty cleaning jobs done around my house. You can easily use this system for any ages and adjust it as your kids get older. I'm looking forward to the day we can add lawn mowing, pruning, and weed-whacking to the list!
Free Life Skills eBook from Real Life at Home
Training Your Children in Home Economics eBook

Subscribe to our newsletter and receive the 44 page eBook full of tips, teaching ideas, and printables.
This post was originally published on The Homeschool Classroom (which is now part of Real Life at Home) in June 2012.  It was updated in 2016.
Some Other Posts You'll Love:
Join 40,000+ Other Awesome People
Subscribe to the Real Life at Home weekly newsletter to get our latest content, exclusive free printables, learning activities, and ideas for celebrating with your kids all year