4th of July Banner Paper Craft for Kids Post Preview: This easy paper craft is an inexpensive Independence Day project for kids to make to celebrate. The post includes pictures and step-by-step directions.
---
Independence Day is coming up soon, so it's a wonderful time to make a simple craft to celebrate. I love easy crafts that are also inexpensive. This 4th of July Banner Paper Craft fits that bill. It's easy to make, works on fine motor skills, and is inexpensive. Bonus!
While the colors and addition of stars on the paper craft are perfect for the United States, you can easily change up the colors for whatever occasion you want.
Of course, there are so many countries that also have red, white, and blue flags. So, just leave off the stars for my friends in England, France, and so many other countries. (Our Canadian friends can just have some red and white papers on theirs for Canada Day.)
Related Reading:
Easy 4th of July Banner Paper Craft for Kids
Independence Day Banner Supplies
Red, white, and blue papers
Scissors
Glue
Pencil
Yarn or string
4th of July Banner Craft Instructions
1. Select your papers for the banner. If you are making it for the 4th of July, you'll want red, white, and blue papers. If you are making it for another occasion, chose the appropriate colored papers.
Get your papers ready by cutting them into squares. Your squares can be whatever size you would like them to be. Larger squares will make larger banners, of course.
2. Create small and even accordion folds on each square paper you will be using. (Not sure how to do that? Think of the little paper fans you have made when you were a kid with a piece of paper.)
3. Take the accordion folded paper and pinch together the middle part to divide the paper into two even parts. Hold the middle part firmly until the next step.
4. Apply craft glue along one open side of the paper.
5. Attach the glued side to the other open side half. This will form a scalloped edge on one side and a straight edge on the other side of the folded paper.
6. Cut a long piece of string or yarn for the banner.
7. Apply glue on the string or the straight side of the folded paper. Attach the straight side of the folded paper to the string or yarn. (Fold the string or yarn inside the paper.)
8. Trace a star shape on glitter sticker paper and cut it out. If you prefer, you can use large star stickers instead.
Another design option: If you are making this for America's Independence Day, you could use white stars on the blue papers.
9. Attach the glitter star cutouts or stickers to the paper banner. 
10. Hang up your 4th of July Banner to celebrate!
As I mentioned before, this 4th of July banner craft is also a super fun craft to do for any time of year – make this inexpensive craft work for you! You could use fall leaves and fall colors for a Harvest Party, red and green for a Christmas party, blue and white for a Hanukkah party, and more.
Other 4th of July Projects and Printables You May Love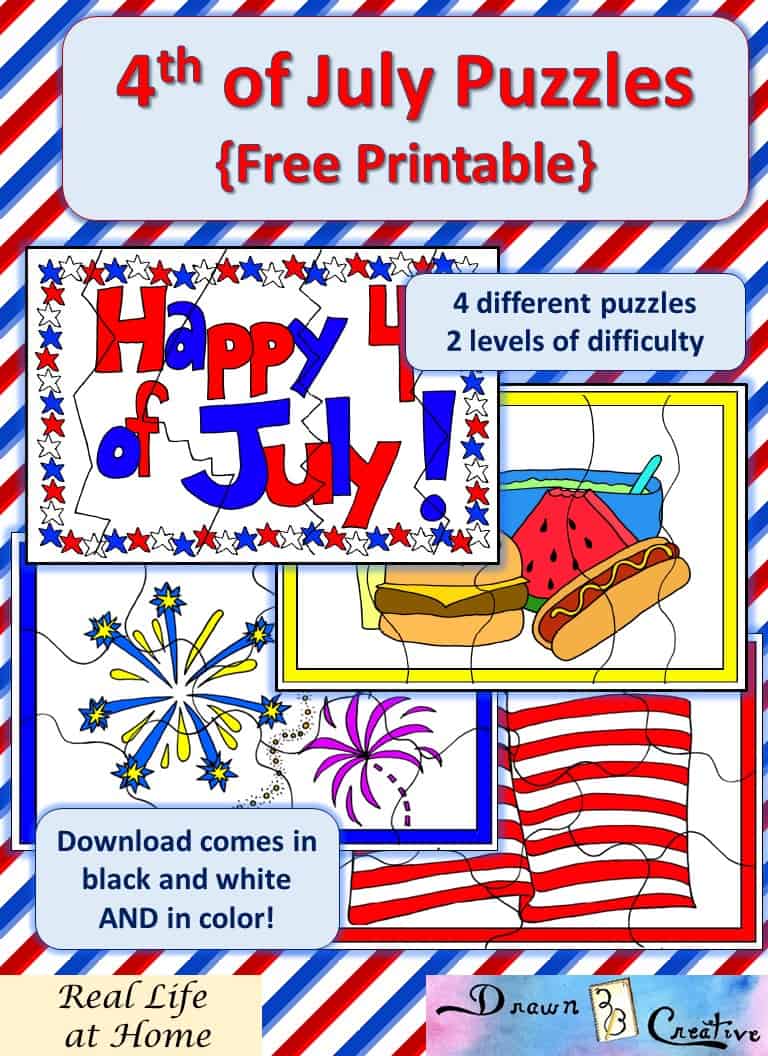 ---
Disclosure: This post contains affiliate links. They don't change the price you pay. However, when you shop through them, we may receive a small compensation.
Patriotic Fun Printables Packet
Subscribe to our newsletter and receive the Patriotic Fun Printables Packet for Free.