Last year, I was very pleased to be able to share with you about the wonderful Adaptive First Eucharist Kit from Loyola Press.  Not only do I love the excitement of First Communion, but being the Mom of a child with Asperger's Syndrome, I can understand the worries that come with having your child special needs working on these important sacraments.
Going perfectly hand-in-hand with the Adaptive First Eucharist Kit is a new Adaptive Reconciliation Kit.  (Reconciliation is the Sacrament also sometimes called Confession or Penance.)
As soon as I opened the box for the Adaptive Reconciliation Kit, I was giddy.  Loyola Press has again done an amazing job!  I instantly was excited because I knew that this would be another wonderful resource for Catholic children with Autism and other special needs.
Contents of the Adaptive Reconciliation Kit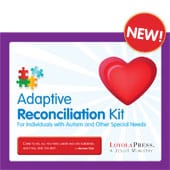 Helper Guide for Adaptive Reconciliation Kit
This walks the adult helper through all the contents of the kit explaining what each item is and how to use it.  I appreciate that they have acknowledged that one size doesn't fit all when it comes to working with people with special needs.  Though the Helper Guide gives instructions, in the Welcome message, it reminds the Helper:
Understanding that every person has unique needs, you can use the learning tools in this kit in the way that best suits the person with whom you are working.  Adapt as you need, repeat as appropriate, and enjoy the process.
A statement like that really signifies to me that Loyola Press gets it.
Reconciliation Flip Book
This is a take-along guide to Reconciliation is in flipbook form.  It uses a PECS system (which is used throughout the whole kit) along with words to help those with special needs go through the steps before, during, and after Reconciliation.  I liked seeing that they showed both going to Reconciliation face-to-face with the priest as well as that you might do it from behind a screen.  This is a great small size to take along, but still be easily usable.
I Celebrate Reconciliation Picture Book
This may be one of my favorite parts of the kit.  It uses a PECS system and words to go through the basics about Reconciliation.  There is a focus on the fact that "God loves me" and that "God wants me to make good choices."  The whole process of Reconciliation is explained in simple terms, but covering all important aspects to prepare someone to receive it.
Three Instructional Cards: Examination of Conscience, Jesus Forgives, and an adapted Act of Contrition
This is such a fabulous Examination of Conscience that I even told Eric, "I need to keep this around for myself."  With 16 picture squares each asking a question to consider, this is a great card for getting ready for Reconciliation.
Some of the questions include:
Do I say nice things?
Do I love God first?
Do I help people?
The Jesus Forgives card is a teaching tool all done in PECS and words to teach the user that while we tell our sins (that we're sorry for!) to the priest, it is Jesus who forgives us.
Of all the instructional cards, I think the adapted Act of Contrition might be my favorite.  Using pictures and words, children can see and say the adapted prayer:
Post continues after this brief information about a monthly membership to help you live the liturgical year
---
Monthly Liturgical Membership
Perfect for families! Each month you gain access to printable activity pages, crafts, home altar pieces, and more.
Never has living the liturgical year been so easy and affordable!
---
O my God, I am sorry for all my sins.  Help me to live like Jesus and sin no more.  Amen.
Beautiful and simple – I loved it.  There is also information on the card for finding an optional American Sign Language video for the Act of Contrition on the Loyola Press website.
Good Choice/Bad Choice Cards
This is a set of 20 cards with 10 showing good choices and 10 showing bad choices.  There are instructions on the back of the container that the cards are held in with ideas of different ways to use them.
I especially enjoyed that there was diversity in the children shown in the photographs on the cards, including a girl with Down's Syndrome shown on several cards.
Jesus Wants Us to Make Good Choices Matching Puzzle
The child (or adult with special needs) will work to match the Jesus piece to the Good Choice option.  This is a way for them to show that they have an understanding that Jesus wants us to make good choices.  This puzzle can also be used in conjunction with the Good Choice/Bad Choice cards.
I Am Forgiven Matching Puzzle
The helper tells the story of each of the four pieces of the story in the correct sequence.  Then, the individual can match up the pieces to the correct spot.  The story tells of making a bad choice, knowing you're wrong, saying sorry, and being forgiven by the other person.
A Bag
Okay, so there's not as much to say about this, but the kit also comes with a handy bag for storing all of the materials or taking them to church.
A Wonderful Resource for Children and Adults with Special Needs
I would definitely recommend using this kit with a child or adult who has Autism or other special needs who would like to prepare to receive the Sacrament of Reconciliation!  While we were blessed that our son is high functioning enough that he didn't need any extra instruction beyond our parish's religious education program, as someone with a degree in special education as well as being a former developmental therapist, I think this would be a perfect addition to many children's preparation.
This kit, just like the Adaptive First Communion, the Adaptive Reconciliation Kit is a pricey investment at $59.99.  (There are discounts for purchasing multiple kits.)  However, if this is something that your family needs, I think that you'll find it to be a worthy expenditure.  Or, you can talk to your parish about purchasing a kit that they might be able to use with your child as well as other children with special needs.
Thank you to Loyola Press for sending me this kit to review!  This is truly a wonderful ministry that you have begun for such a deserving group of God's children.
Join 40,000+ Other Awesome People
Subscribe to the Real Life at Home weekly newsletter to get our latest content, exclusive free printables, learning activities, and ideas for celebrating with your kids all year