Last fall, Molly became determined to build a fairy house. She watched videos about fairy houses, and schemed for how to make one in our yard. When it seemed that nobody would offer to help her, she used a small tree stump in our yard and decorated it with things like twigs, leaves, and acorn tops. She called it her "fairy habitat." One day when she was gone, I even sprinkled glitter all over it, a la Tinkerbell style.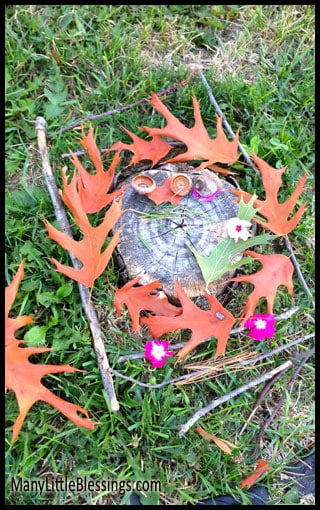 She came home and loved it, as she is a huge fan of Tinkerbell and all of her movies. In fact, one of her highlights from our last trip to Disney World was getting to see both Tinkerbell and Periwinkle. This also means that she is very excited for the newest Tinkerbell movie, Disney's The Pirate Fairy You can own it on Blu-ray and Digital HD April 1. (You can preorder it now!)
Although Molly thought her fairy habitat was fun, she still had her heart set on having a fairy house. Finally, one day, it was Daddy to the rescue. Together, they built not only a fairy house, but they built a teepee style fairy house. Though we didn't realize it at the time, it seems that a teepee style fairy house is really the way to go where fairy houses are concerned.
Why build a teepee-style fair house?
In all fairness, I will note that our teepee-style fairy house was built by a little girl who loves building and her engineer Dad. However, since it was built last fall, we have the benefit of time to be a testament to the stability of a teepee-style fairy house. You see, they built the teepee-style fairy house in our yard in September 2013.
It stood in our house through several horrible rain storms. We were sure that it would be knocked down when tornado warnings were coupled with hail one day. That day, in another part of our county, there were several tornadoes that did damage that is still affecting people today. The teepee style fairy house survived the winds. And, here at the end of a winter that brought us the second most snow that our area has seen in the last 130 years of recorded data, the thaw found the fairy house still standing, complete with many of its contents intact.
Six months after being built, the teepee-style fairy house still stands. The structure is definitely a winner.
How to Build a Teepee-Style Fairy House
We built our teepee-style fairy house around a small stump of a tree. I don't know that that's necessary, but I think that it helped with stability. If you're building it over a grassy area, just know that if you leave the teepee-style fairy house up for a long time, you'll probably end up with a circle of dead grass. So, either find a non-grassy area, only leave it up for a few days, or accept that there will be some dead grass.
Eric and Molly first gathered up handfuls of sticks that were approximately the same size. If they had leaves on them, they took them off. They didn't worry too much if they weren't perfectly the same size, because Eric used a knife to trim sticks down to the right size.
Once they had their sticks the same size, they put them around the stump and set them up in a teepee style with an area left open as a front door, per se.
To help with stability, Eric pushed the sticks into the ground. Eric and Molly then wrapped a thick cotton string around the top of the teepee many times before tying it off.
After the teepee structure was complete, Molly gathered leaves that they then wove in and out throughout the twigs and string. Even though our leaves died eventually, of course, they still stayed in the teepee.
To complete Molly's teepee-style fairy house, she filled the inside with things that she found outside, such as leaves to use as beds, acorn tops for chairs, flowers for decoration, little berries from trees as food for the fairies, and a little Pixie dust, of course. We were surprised that after all of those weather extremes, most of the contents of the house remained as Spring rolled in.
This was such an easy project, and a great chance for some bonding between our home's resident builders. Plus, the teepee-style fairy house staying up so long has been a source of happiness and pride for both Molly and Dad.
Join 40,000+ Other Awesome People
Subscribe to the Real Life at Home weekly newsletter to get our latest content, exclusive free printables, learning activities, and ideas for celebrating with your kids all year