The following post is from Dianna of The Kennedy Adventures:
The following post contains affiliate links – thanks for your support of our author.

Want to keep your preschoolers occupied while you work on school with their older siblings? Need to reinforce math or literacy skills? Aiming to score cool mom points and connect with your kids? Don't overlook the importance of preschool learning games – check out this list of our very favorites.
Preschool Learning Games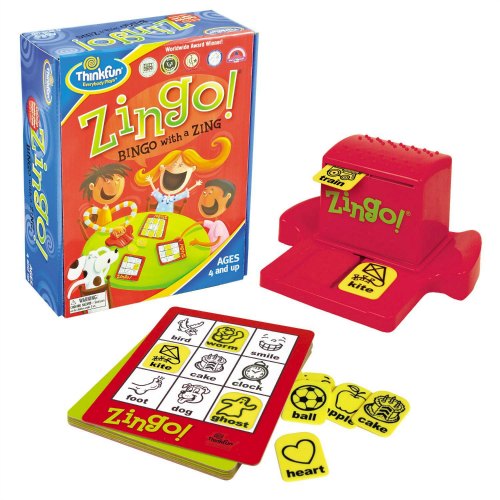 One of my friends gifted us with this fun preschool learning game years ago. You can work on literacy skills and matching in this fast paced bingo style game. It has two levels and can accommodate up to 8 players.
There's also a Zingo 1-2-3 and What's Gnu for your older preschooler moving into kindergarten.
Want to work on your preschooler's attention to detail while having fun? We love this Spot it Jr game.
Each round card has 6 animals in different sizes – there's always one match between every card. My boys love playing the 'speed round' version, where they race to spot the match first, while my toddler likes to point out the animals that she knows. You can play different variations of the game, with up to 6 players.
There's also Spot It Alphabet and Spot It Numbers and Shapes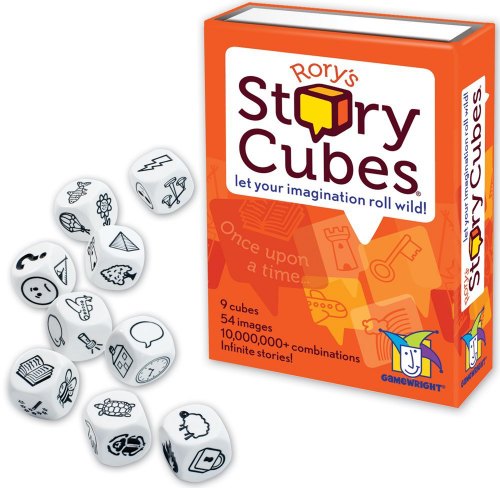 Encouraging your child's creativity and storytelling abilities is easy with Story Cubes. It's not listed as a preschool learning game, but we've utilized it in our house to help spark our twins boys' imagination. (it doesn't take much!)
Each cube has a picture -roll them individually or in a group and let your child's imagination take flight! We like to video our boys' stories, or write them down to read back to them later.
Other versions include Voyages and Actions.
Recommended for ages 8 and up but we've used them with our older preschoolers and kindergarteners. (ages 5)
With our homeschool curriculum, our daughter is reading Mr. Poppers Penguins and working through the study guide. To keep my twin preschool/kindergarten boys involved, we picked up this penguin matching game.
Roll the colored dice and lift the penguins to try and find a egg to match. This helps with color recognition, memory skills, visualization, and taking turns. Ages 4 and up, for up to 4 players.
This fall, we'll be working on Caps for Sale as part of our Before Five in a Row exploration. This balancing monkey game would be perfect to go along with rowing the book, while working on strategy and taking turns.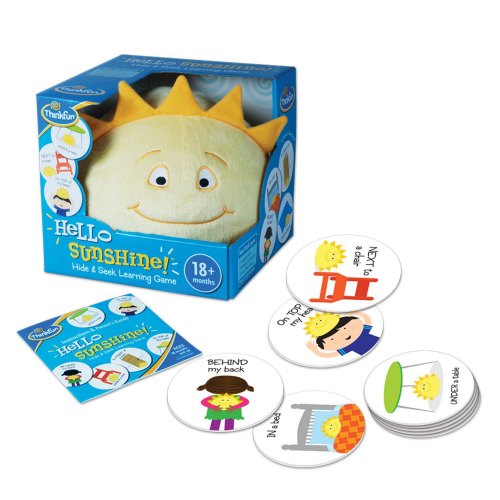 I have this adorable game on my toddler's wish list for her birthday gift. You can get involved in the play, teaching your child positional words and following directions. Ages 18 months and up.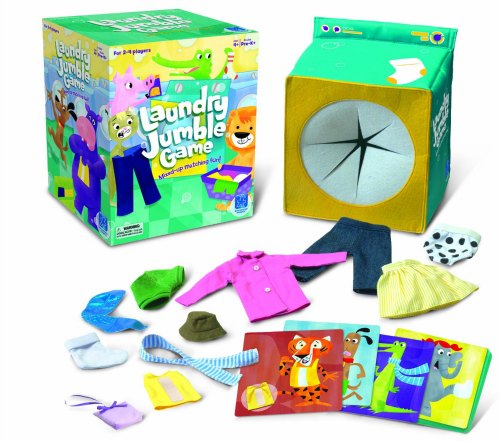 Have a tactile learner in your house? Don't miss this game from Educational Insights.
Kids reach in and identify the laundry pieces by touch, trying to avoid the Skunk's Undies! I know my children will love this one!
Calling all future doctors! This preschool learning game reviews parts of the body, helping children to learn body parts and vocabulary. Ages three and up.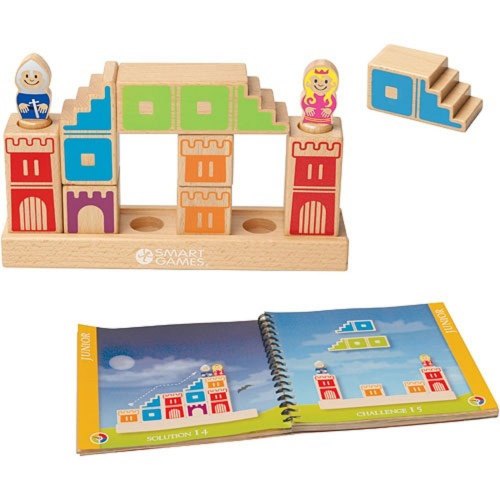 Strategy learning games are a favorite around here and can start in the early preschool years. In this game of castle logic, children have to solve the castle challenges to bring the prince and princess together. Ages 4 and up.
Other versions of preschool and early elementary strategy games:
Day and Night
Trucky 3
Hide and Seek Pirates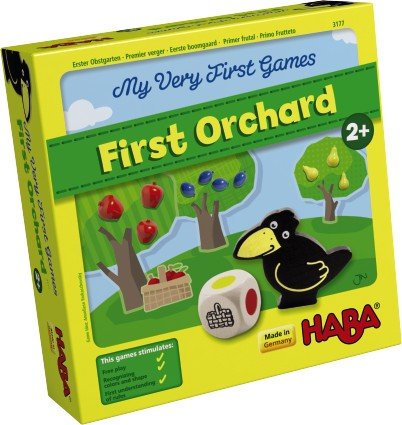 Get your tiniest preschoolers involved in preschool learning games with Haba's My Very First Orchard Game. The pieces are large, designed for little hands to learn and explore. Ages 2 and up.
We recently discovered card games as a huge source of fun and learning for my preschoolers. These Go Fish cards from Eebo are even shaped like a fish! My kids still have trouble not showing their cards to each other, so we use this card holder.
Other card game favorites
Old Maid
Crazy Eights
Hearts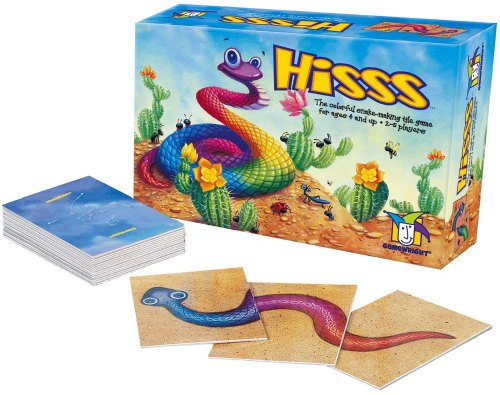 Clear some space on the floor – this game takes up some room! Encourage your children's creativity while working on matching, strategy and gross motor skills in this preschool learning game. Ages 4 and up, for as many as 5 players.
Part of the problem in my home with preschool learning games is the disappointment when one of my super competitive children lose.
Sigh.
In Snug as a Bug in a Rug, players work together in teams to hide the colorful bugs under the rug before the stink bugs invade! The cooperative game environment is less stressful for kids and moms!
Need a quieter approach to games for your preschooler? I found this magnetic game, perfect for keeping your preschooler engaged and working on fine motor skills while you're cooking dinner or even traveling with the family.
Geared for ages 3 and up, your child can match the cards provided or use the props for free play.
It's also available in different versions: Vehicles, Girl's Outfits and more!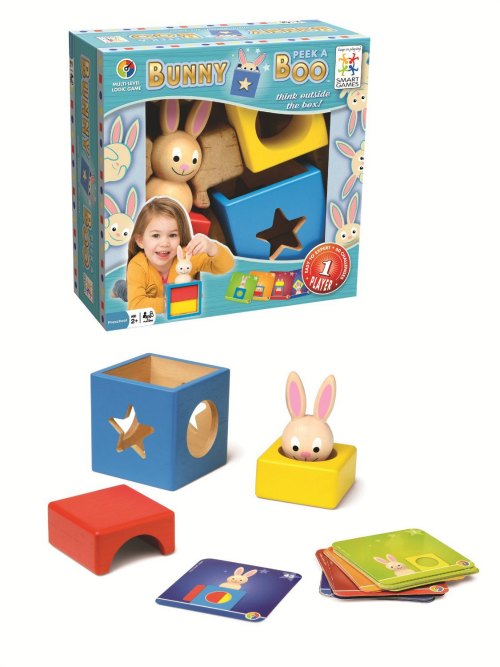 Bunny Peek a Boo

Start your little learners off right with this 3D logic game designed for players as young as two. Younger children can explore concepts like above and below, while older preschoolers can work on solving the 60 challenges included.
Have I left out any of your favorite preschool learning games?

Join 40,000+ Other Awesome People
Subscribe to the Real Life at Home weekly newsletter to get our latest content, exclusive free printables, learning activities, and ideas for celebrating with your kids all year