Sometimes, when I'm nervous or scared or overwhelmed, one of the ways that I calm myself is by taking deep breaths.  They aren't just regular deep breaths though.  They are deep breaths where I think the first syllable of Jesus's name as I inhale and the second syllable as I exhale.  That sweet name washes a calm over me.
Throughout the Bible, of course, Jesus is not the only name or term used to name Him.  In honor of January being dedicated to the Holy Name of Jesus, I put together two versions of a free printable Names of Jesus word search.
Thou shalt call His Name Jesus, for He shall save His people from their sins.
The reason that I put together two versions of the Names of Jesus word search printable is because I wanted a wider variety of ages to be able to enjoy looking for names by which Jesus is spoken about in the Bible.
In the first version, there are names that are a single word and that I thought might be a little easier for elementary aged kids to look for (though older elementary kids can do the second version).  The second version has more names that are multiple words, plus the whole puzzle is larger.  The first version features ten search terms, and the second version features twenty search terms.
Names of Jesus included in the first word search printable:
Messiah
King
Friend
Savior
Christ
Beloved
Deliverer
God
Teacher
Advocate
Names of Jesus included in the second word search printable:
Living Bread
Lord of All
Alpha and Omega
Wonderful Counselor
The Mighty God
Prince of Peace
Everlasting Father
Salvation
Lamb of God
Good Shepherd
Morning Star
Emmanuel
Holy One
Light of the World
Dayspring
The Word
Rose of Sharon
Shiloh
Ancient of Days
God with Us
Important – Terms of use: This download is free for personal or classroom use. It can also be put into church bulletins or newsletters, but the copyright credit line must be included (which just means to make sure that you don't accidentally crop off the line with the copyright information at the bottom of the printable when you are reproducing it to hand out).
It cannot be sold, published, or hosted on other websites. If you want to pass along the printable though, please feel free to share a link to this post (not directly to the printable) with others. Thanks! (There are additional terms of use on the first page of the download and you can read them here too.)
If you use a lot of free printables from Real Life at Home, you might consider making a small donation to help us continue to offer all these freebies.
*Having issues with the printable? Check out some solutions here. (Sometimes your browser's PDF viewer makes the word search disappear or makes the printable blurry, but I have a solution for that!)
Post continues after this brief information about a monthly membership to help you live the liturgical year
---
Monthly Liturgical Membership
Perfect for families! Each month you gain access to printable activity pages, crafts, home altar pieces, and more.
Never has living the liturgical year been so easy and affordable!
---
Other Posts You Might Like:
Holy Name of Jesus Coloring Page
Mary and Baby Jesus Coloring Page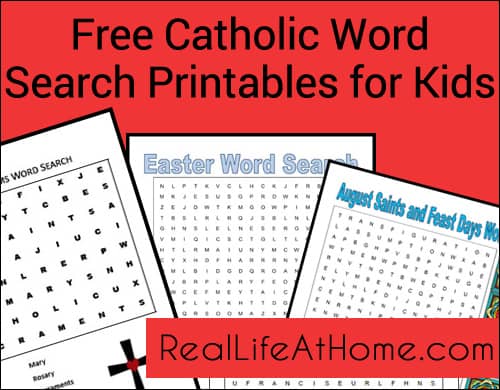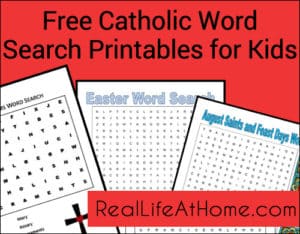 Free Catholic Word Search Printables for Kids
{Find More Posts from Angie on Real Life at Home}
Join 40,000+ Other Awesome People
Subscribe to the Real Life at Home weekly newsletter to get our latest content, exclusive free printables, learning activities, and ideas for celebrating with your kids all year