The following post is from Demetria of Christian Homeschool Moms.  This post is sponsored by Math-U-See.
I began using Math-U-See back in 2007 when I first started homeschooling my oldest. I fell in love with this math program right away.  I look forward to sharing my experiences with you in this post.  (Also, keep reading to find out more about Math-U-See's giveaway of one complete level of their math curriculum to a resident of the continental United States).
What is Math-U-See?
Math-U-See is a multi-sensory, mastery-based mathematics program that allows kids to "see" and understand how math works in a hands-on manner. The first few levels begin with a heavy emphasis on using manipulatives, and it comes with a set of pattern blocks as well as an instructional DVD.
Since the program doesn't correspond with traditional grade levels, this self-paced learning approach allows students to grasp key concepts one at a time on each level.  The program starts with Primer and Alpha which covers the basics of skip-counting, place value, and adding. The program then progresses to higher levels named Beta, Delta, Epsilon, and so forth (named after Greek letters) – which cover fractions, decimals, and more.
Why I Enjoy Math-U-See
I purchased both Primer and Alpha levels for my kids as they first began their journey of learning and understanding mathematics.  I feel that this curriculum is a gentle approach to learning math and supports all types of learners- visual, auditory, and kinesthetic.  The manipulatives help kinesthetic learners pull it all together, while the accompanying audio CD (which contains skip-counting songs) and the DVD (which contains Mr. Demme's instructions) support the audio and visual learner.
For parents whose comfort level in mathematics is minimal, Mr. Demme's support through his recorded math workshop sessions on DVD make teaching math so much easier.  Just pop in the DVD at the beginning of the week's lesson and watch him explain math concepts to a group of kids on the video in a fun and engaging way.  I wish I'd been taught math this way.  Somehow Mr. Demme comes up with the niftiest tricks that were never taught in any of my schools.  If they had been, I might have understood math better.
We found that watching Mr. Demme explain the concepts for the week helped us to easily navigate through the week's lessons.  My daughter spent about 20 minutes in the Primer level watching the video and completing one page of around 4-8 math problems.  This was followed up with the remaining week days of simply completing one math lesson per day. The lessons are short, and that's what sold me.  Each video explains the concept for the week, and the week's lessons reiterate the video lesson.  It's all simplified and easy to follow.
If my child ever needs extra practice, MUS offers a worksheet generator.  Just select your book level, the type of lesson, and voila! Create your worksheet. Also, lessons are reinforced with extra practice through the online drill page.
Music
Did I mention that music also gets my daughter moving?  This program offers the Skip Count CD and songbook for kids learning to skip count by 2's, 5's, 10's.  It also gets them more familiar with the doubles and addition facts.  The CD we have is the Christian version, but there is also a secular version.
Manipulatives
Pattern blocks in sets of ones (units), tens, and hundreds help kinesthetic kids to really "see" math at work.  My six year old is especially fond of this program, mainly because of the pattern blocks.  She's a kinesthetic learner, and any chance to touch and build gets her moving.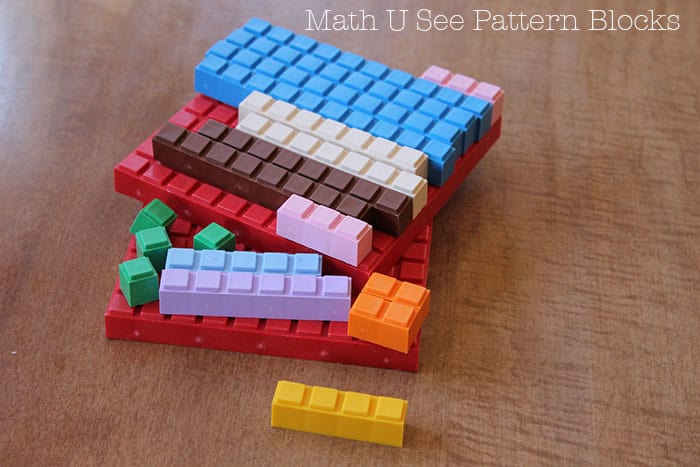 These blocks are a big hit in our home.  In the Math-U-See program, each block set has its own name.  The eights blocks are lovingly referred to as "choco-late" or "chocolate eight," and you can make similar names to help younger kids identify the block colors with the number they represent.
Older kids learn geometry, fractions, decimals, pre-algebra and more using fraction overlays and decimal inserts.
The Manipulative App
Another cool feature is Math-U-See's new manipulative app- for preschool through algebra 1 levels.   It works as a supplement to the manipulatives, and allows you to take math on the go.  It's available in both the App Store and the Chrome Web Store.
Here is a quick video tour of how my daughter uses it:
The app is a great way to take the MUS program on-the-go. Your student can practice math concepts using the digital version of the manipulatives, as well as the integrated concepts of fractions and decimals.  The hallmark Decimal Street is included on the app, as well as white board functions.  Choose a color, write out your math problem with your finger, and erase with a simple stroke! The one feature that was most attractive to me are the digital blocks that are the same color as the physical ones. On the app, you can move them around and piece them together similarly as you would with the physical blocks.
Why Math-U-See Works For Us
Although my middle schooler is using other options for school now, I appreciate the fact that online co-op classes are offered for pre-algebra through calculus. I always have peace of mind for math knowing that if we needed the extra math support, we could register her for an online class with Math-U-See and get the help she needs.
Overall, we have thoroughly enjoyed Math-U-See over the years.  It's been the one math program that has made introducing math to my kids a breeze, and I think it lays a strong foundation for understanding math in later years. My oldest daughter has woven in and out of math programs, but will never forget her strong start with Math-U-See.  My six year old enjoys math today as a direct result of this program.
Thanks to Math-U-See for sponsoring this post and giveaway!
Join 35,000+ Other Awesome People
Subscribe to the Real Life at Home weekly newsletter to get our latest content, exclusive free printables, learning activities, and ideas for celebrating with your kids all year