The following post is from Christy of Eclectic Momma:
When we started homeschooling, money was tight.  Out of necessity, I had to spend the least amount of money possible on our homeschool curriculum.  I had to get creative and search out free resources to teach my children.   I would make a list of the subjects I wanted to teach and then start to look for free resources.
There were two invaluable resources to homeschool virtually free:
1.  The public library
We check out audiobooks, DVDs, language programs, teacher's guide, reading material on all subjects, music CDs, and more.  Do not underestimate the amount of material you can access through your free library card!
2.  Access to the internet
There is so much information available to homeschoolers today: free curriculum, online games, planning resources, lapbooks, printables, and so much more.  There were years that I planned history, science, and fine arts strictly using online resources.  My kids loved those units!
Online Resources Available to Help You Homeschool for Free:
How to Get Started Homeschooling:
Donna Young is a great place to start with tons of homeschool planning resources.
I've found great resources at Oklahoma Homeschool, including planning credits for high school courses.
Free whole curriculum choices:
This Charlotte Mason based curriculum has great resources for artist, composer, nature studies and so much more.  We have used this website extensively as a guide when we were beginning to home school.
Easy Peasy All-in-One  Homeschool
Easy Peasy is a complete Christian-based curriculum online.  It is organized by subject and grade.  As with any curriculum, feel free to use it in part or the whole to fit the needs of your family. I have not used Easy Peasy personally, but it seems to be a popular starting point for some homeschooling families.
Lesson Pathways contains resources for teaching K-5 in the areas of Language Arts, Science, Math, Science and Reading/Phonics.  You can create a free account and assign your students lessons in their planner.
Internet4Classrooms organizes links to lesson plans, activities and online games by grade level, subject and individual skills to master.
Free Language Arts Resources:
Games, stories and activities for grades K-8. This website also contains history, science, math and other subject resources.
Over 400 lessons and 88 quizzes help you provide a good foundation in grammar for free.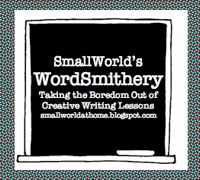 Creative writing lessons from Sarah at SmallWorld at Home.   A friend and I have been meeting together every other week for a writer's workshop as we work through these lessons with our kids.
McGuffey's Readers  are free for Kindle.
A list of handwriting resources including cursive printables.
Free History Resources:
Mr. Donn's Social Studies site
For several years, I taught unit weeks using Mr. Donn's website as a starting point for our history units.    This website has lesson plans, readings, games and other resources covering the Ancient Civilizations, World History and American History.
History movies and activities focusing mainly on American History.
A new resource with readings on various historical events.  Quizzes and other resources to be added in the future.
Free Science Resources:
Fun learning games on a wide variety of science topics
K-12 Science Curriculum from MSNucleus
This curriculum has the potential to be used by homeschoolers  wanting to teach the same material with kids on multiple levels.  For example, a unit on volcanoes would have your 1st grader learning  that volcanoes produce rocks while your 5th grader would go more in depth on the same topic.
Free online textbooks covering a variety of science fields including biology, chemistry, life, physical and earth sciences and physics.
These well done nature videos are a nice addition to any science curriculum.  The website includes video enhanced lessons as well as other activities and lesson plans.  Kilauea: Mountain of Fire is one of our favorites!
Free Math Resources:
Arcade like games that reinforce math skills
Free worksheets and quizzes from beginning math skills to Algebra
An online video based website that lets you assign lessons to your student with your free account.  This can be an invaluable tool for use with visual learners.  It can be used alone or as a supplement to another math curriculum.
I'm excited to try this Algebra 1 online video course with my daughter this year.  It provides guided practice for students or even can be a refresher course for parents!
Fine Arts:
Free Art Resources:
My all-time favorite places to find art lessons are:
My kids love these online art games.  I think they are pretty fun myself!
Pinterest is a great tool for finding free resources.  I love the visual aspect especially when it comes to finding great art projects for my kids.  You can check out my Art Projects board for some great projects.
Free Music Resources:
Making Music Fun has a wide variety of free printable including sheet music.  I have used these for teaching co-op classes as well as in our own home.
There are lots of ways to listen to classical music for free online.  Our favorite program is Classics for Kids!
Classics for Kids offers a short fun-filled audio lesson on various styles of music or a specific composer.  Their website also has free printables.
Other Free Homeschooling Resources:
Lapbook and unit resources can be found at Homeschool Share
Free Typing Resources:  Free Typing Game and Dance Mat Typing
A huge list of unit studies on various subjects.
This list is just the tip of the iceberg for the resources available to homeschool your child for free!  What are your favorite free homeschooling resources?  Please share in the comments below!

Join 35,000+ Other Awesome People
Subscribe to the Real Life at Home weekly newsletter to get our latest content, exclusive free printables, learning activities, and ideas for celebrating with your kids all year