Catholic Icing Monthly Membership of Printables and Crafts for Liturgical Living Post Preview: Learn all about the new monthly membership that is filled with home altar printables, activity and coloring pages for kids, printable crafts, a family activity page, and more!
---
I'm so excited to share about a brand new project I have been busy getting set up and working on recently. While I have worked for Lacy from Catholic Icing since 2013 as a project manager, for this new project, we joined forces to work together as partners and it has been so exciting!
I'm so excited to introduce you to the new Catholic Icing Monthly Membership!
This membership is absolutely something I would have loved to have had available ages ago. Because of that, I'm so thrilled to be able to make it available now to others. It makes living liturgically easy and no-prep. I hope that it blesses so many families and enriches their faith lives!
Note: The membership pack is a digital product. You will have access to each month's downloads and videos after you join. No physical product will be shipped to you. 
What is included in the Catholic Icing Monthly Membership?
The Catholic Icing Monthly Membership gives you instant access to printable materials that will help you live the Catholic faith with your kids. We're giving you a super easy, affordable, and doable option for celebrating feast days at home or in the classroom!
Every month you'll be able to download and print:
Home Altar Printables
These beautiful printables include items with beautiful Catholic art to match the traditional dedication of the month, a special "Saint Spinner" that displays different feast days, a prayer triptych, Scripture memory cards that match the Sunday Mass readings, a litany of Saints for the month, and more!
If you don't have a home altar or prayer table at home or in your classroom, don't worry about not being able to use these items. These will be so easy to print out and spread out throughout your home.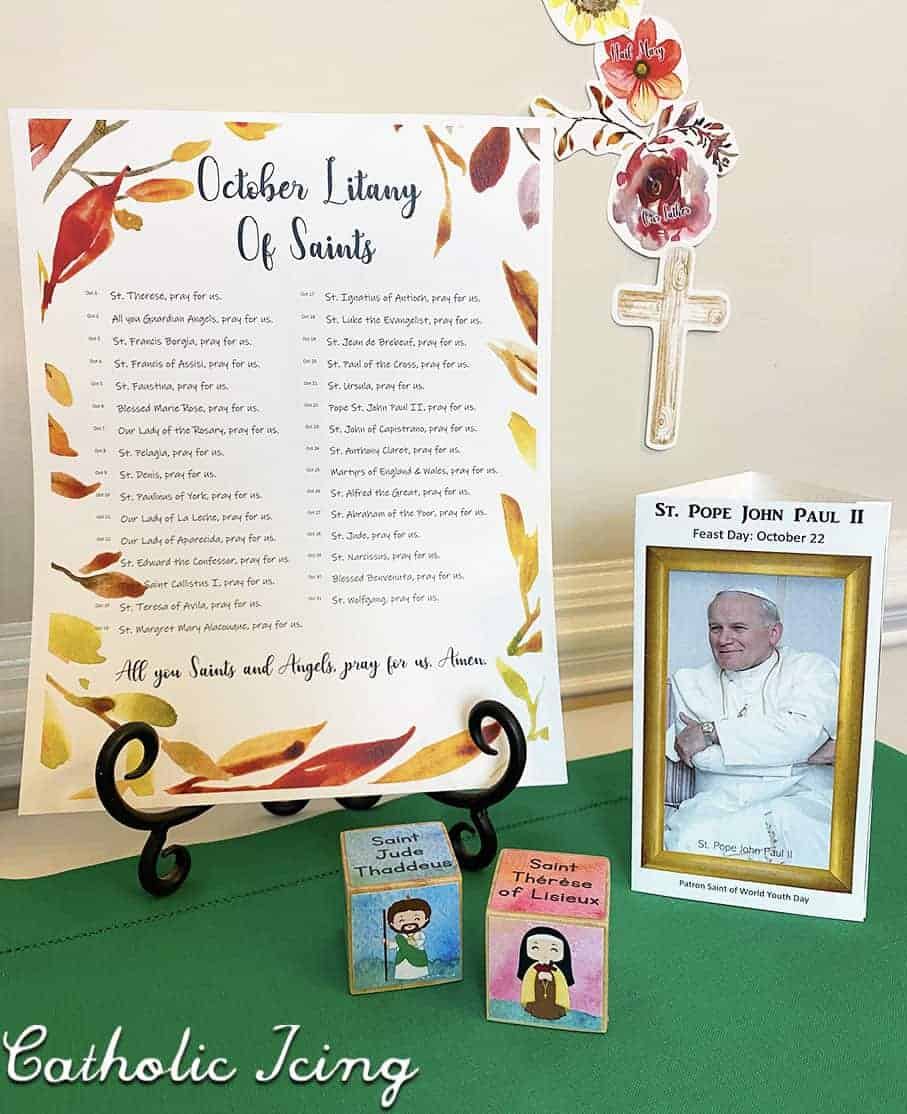 Family Activities Printable
This is a page of activities you can do with your family during the month to celebrate feast days and other observances that are all easy to do. If you're a Catholic school teacher or religious education teacher using this membership, this would be a wonderful page to send home with your students.
These pages are inspired by, but not the same as, the Monthly Activity Pages for Catholic Families that I have here on Real Life at Home.
Fun learning activity pages for kids
There will be at least 10 pages featuring saints and feast days each month in the Catholic Icing Monthly Membership. These may include pages such as:
a saint mini report
word searches
crossword puzzles
handwriting pages
crack the code pages
and more
Each month's pack will include printables for a variety of ages.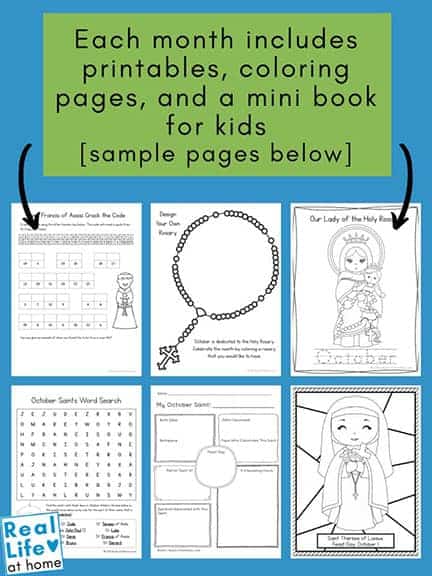 Coloring pages
There will be five coloring pages in the Catholic Icing Monthly Membership each month with featured saints as well as quotes from saints or Bible verses that are used in Mass readings that month.
A saint mini book
There will be a saint mini book that is easy to print and fold. It is available in black and white or color. This prints on a single sheet and with a couple of folds, it becomes a four page mini book featuring a few saints for the month.
Saint Crafts
Each month will include saint crafts. This year, each month will include your printables for making two saint blocks. These can be made on inexpensive wooden blocks or you can use cardstock and a version that you can fold to make a paper block.
The saint blocks are my favorite things that I made for the October membership! In the October pack, they feature Saint Therese of Lisieux and Saint Jude. I have had the blocks sitting on my desk just smiling at me as I have been working so hard getting everything ready.
Each month will also include paper saint statue crafts in color and black and white for coloring.
Post continues after this brief information about a monthly membership to help you live the liturgical year
---
Monthly Liturgical Membership
Perfect for families! Each month you gain access to printable activity pages, crafts, home altar pieces, and more.
Never has living the liturgical year been so easy and affordable!
---
Scripture memory cards
The Scripture Memory Cards are provided for each week and the Scripture matches verses from the Sunday Mass readings.
Additional Resources List
There's no need to seek out lots of other resources. We'll give you a list of other resources to visit if you want to add even more to your month.
Bonus Printables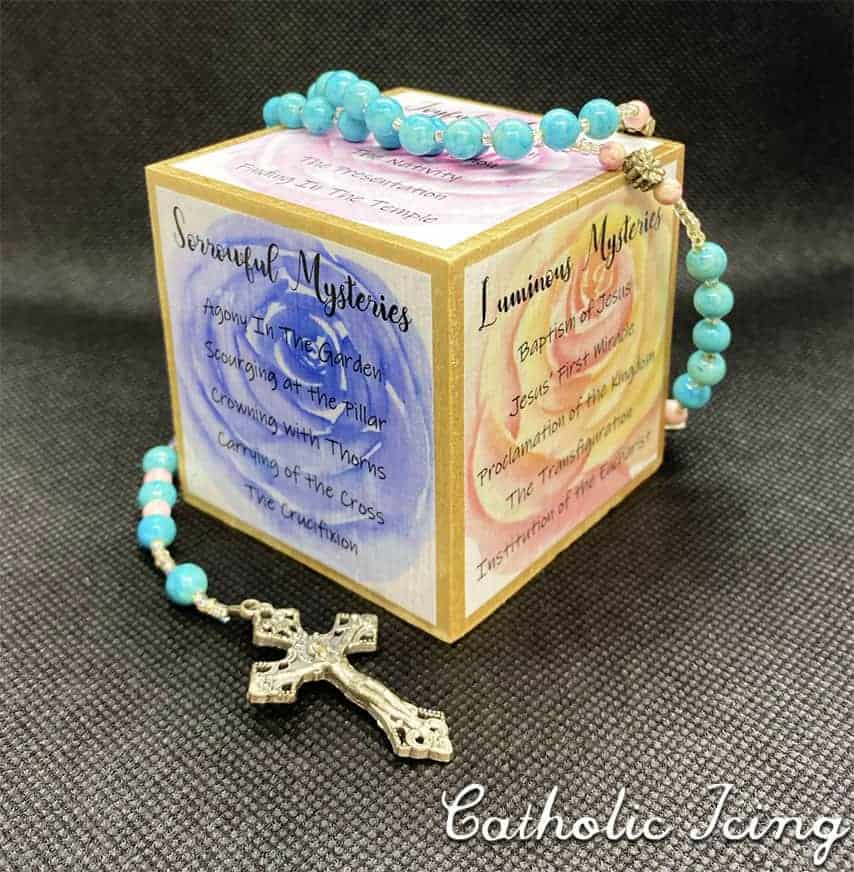 Each month will include something extra and fun! The month of October, for example, is dedicated to the rosary, so it includes a seasonal wall rosary printable, and also a Mysteries of the Rosary cube printable to make your own Mysteries of the Rosary cube.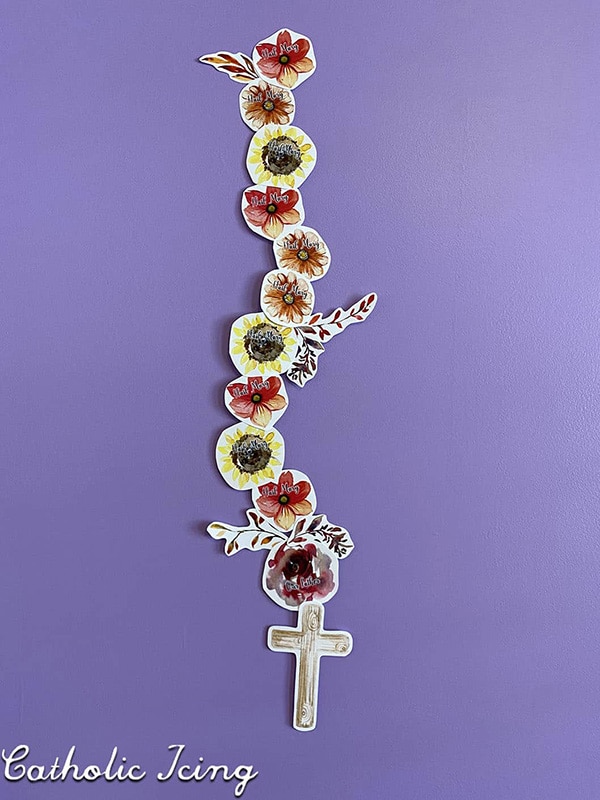 Starter Pack
You'll also be able to download a starter pack that includes other items for your home altar, such as:
a perpetual calendar
liturgical season block craft
a home altar guide
and more!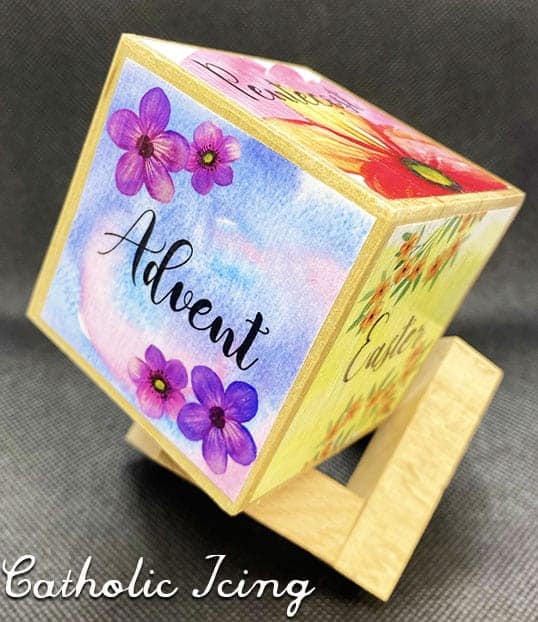 The October 2021 Catholic Icing Monthly Membership Pack plus the Starter Pack includes a total of over 90 pages! This membership is a wonderful resource and it's very affordable!
To help you, there are videos and directions from Lacy and Angie that you'll be able to access as well.
You can watch the web story about the membership here.
Monthly Packs Will Not Be Repeated
If you think the items in the October 2021 kit look great, you won't want to put off signing up for the membership. Each kit will only be available for approximately 5 1/2 weeks. It will be available around a week before the month the kit is for and then will be available until the end of the month it is for.
After the month is over, the whole pack will be available to purchase outside of the membership at a higher price.
The same pack will not be repeated. For example, the October 2022 membership contents will not be the same as the October 2021 membership. Although the same types of items may be included, they will feature different saints, pictures, scriptures, etc.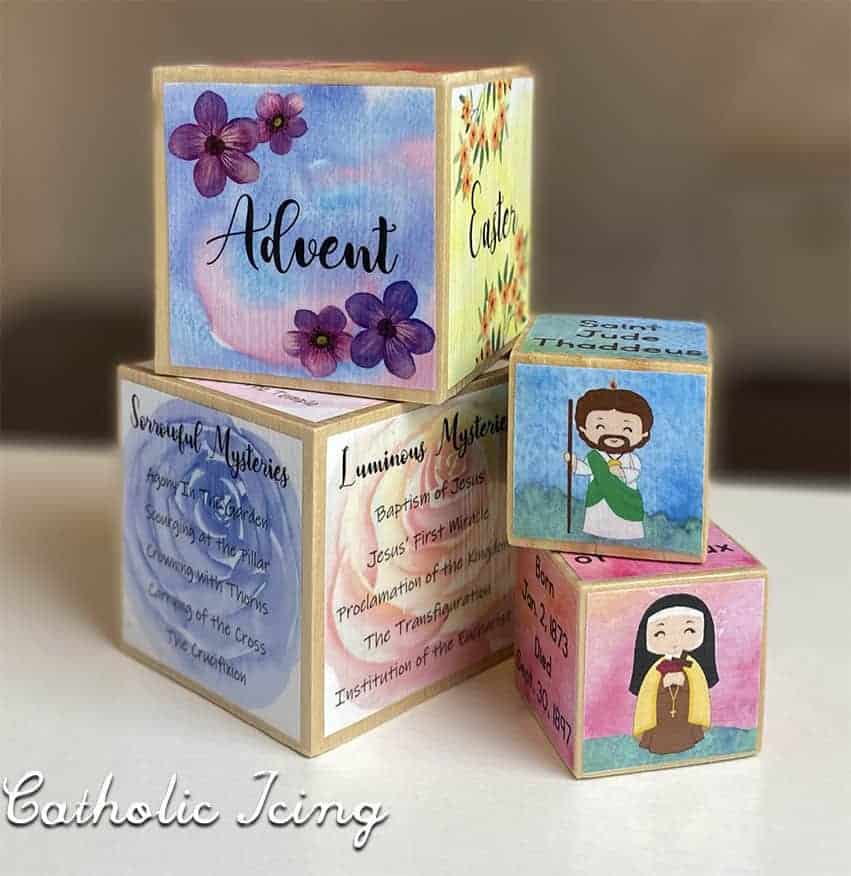 Limited Time Price For Founding Members
There are Catholic Icing Monthly Membership pricing options for families and classrooms as well as schools and parishes that you can check out here. These include options for monthly, quarterly (3 months), and annual payments.
However, from now through October 7, 2021, you can join as a founding member to get the monthly membership for the low price of just $8 per month (for one household or one classroom)!  The school and parish pricing also has a special founding member pricing that is only available through October 7, 2021.
As of October 8th, the price will go up. However, you will be grandfathered into the price that you sign up with, so you need to join now to lock yourself into this $8/month deal! You don't want to miss this very limited time pricing!
Both Lacy and I are so excited about the Catholic Icing Monthly Membership! We hope that it blesses your family and makes it easy and accessible to celebrate the liturgical year in a way that you haven't been able to find the time or resources to do before!
Never Miss a New Catholic Post or Printable
Subscribe to our weekly Catholic newsletter to get the latest content and subscriber freebies!