Five Reasons Your Child Should Be an Altar Server Post Preview: Not sure if being an altar server is a good choice for your child? Here are five reasons to consider this meaningful role your child can fill during church services or Mass.
---
If you are in a church denomination where young people can serve as altar servers, acolytes, or some other type of similar position, you may have wondered if your kids should get involved in that way. Sure, it can be easy to write it off as another thing to add to what might already be a busy schedule.
However, I would encourage you to consider that being an altar server can definitely be worth the extra commitment. While I feel that children should be given an option about whether to become altar servers, I hope that by reading ways it can benefit them (and you) that you will consider discussing it with them.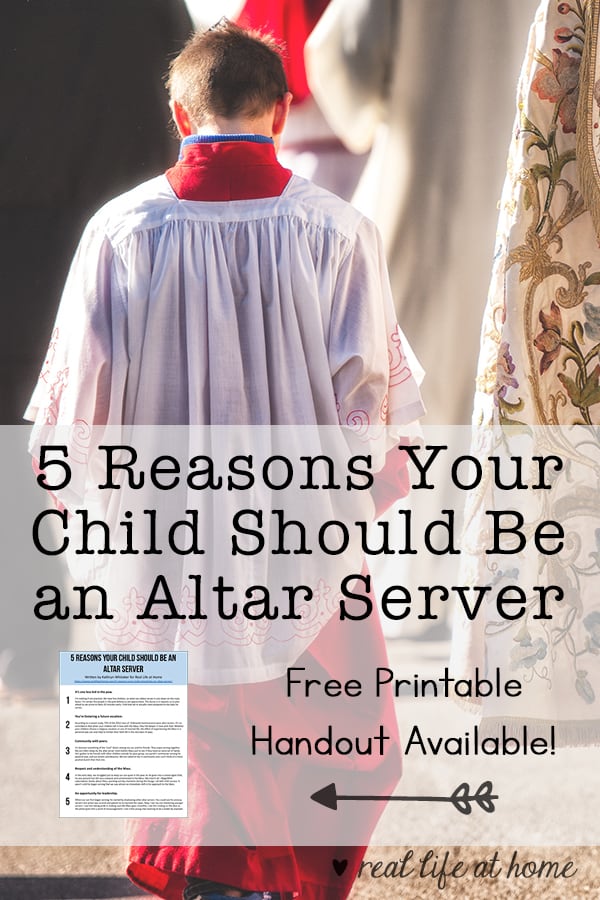 Related Content:
5 Reasons Your Child Should Be an Altar Server
While only one of my children decided to become an altar server (and that was a short-lived endeavor because of some anxiety issues and a training program that was lacking in training), I would still recommend it based on my own experiences.
I spent my first 30 years in the Episcopal Church. I was an acolyte (the name for an altar server in the Episcopal Church) for my entire teen years. Those experiences were special to me and it is a time I still cherish.
Based on what I have experienced first-hand, as well as the experiences of many families that I'm close with, I want to share reasons to consider having your children become altar servers.
Get to Mass or Church Services on Time
Okay, so maybe this isn't the holiest reason for having your child be an altar server. But, let's be real – it's a good reason.
Maybe you don't struggle with getting to church on time. Maybe your family is all neatly lined up in the pew with plenty of time to spare. If so, this perk of having a child be an altar server may not seem like a benefit.
However, if you find that your family is always rushing to get to church on time, this might be a good motivator for you. While my family growing up was always at church ahead of time, we got there especially early on Sundays when I was an altar server.
For us now, we are sometimes at Mass way ahead of time and sometimes at the last minute. However, whenever the kids have something going on, we are always there early. That means easier parking, less stress, and some time to have quiet prayer before Mass starts.
Sure, it might not seem like a particularly holy reason, but not needing to silently admonish people in the parking lot and having more time for prayer beforehand seems pretty holy to me.
Altar Servers are Actively Involved During the Mass
An hour to an hour and a half can seem like a long time to kids who are sitting during Mass or church services. Yes, of course, they should be actively involved in the pews as well. In my family, as I grew up in the Episcopal Church, we were expected to sing along to the hymns, say all of the prayers, and do all of the appropriate standing, sitting, and kneeling. Likewise, as we raised our kids in the Catholic Church, we expected the same of them. For us, being at church means being involved, even when you're sitting in the pews.
However, having the opportunity to serve during a church service or Mass means a different type of involvement. When I was growing up, it was a level of involvement that I loved. I still did all of the same types of things I would have been doing in the pew, but I was able to do even more. Being involved in that way made me feel a special closeness to what was happening. Serving during a church service or Mass can be a gift to a child, not an obligation.
Being an Altar Server Means Hands-on Learning
I firmly believe that hands-on learning opportunities are some of the best learning opportunities that are available. It's one thing to just read about something or hear about it. It's an entirely other thing to actually participate in or utilize something.
By serving during church services or the Mass, children have so many hands-on learning opportunities. It's a wonderful way for them to learn the names of objects used during Mass, vestment pieces, and other church-related terms.
My children (and many other children) all learned the names of objects used during Mass during their religious education classes. Sadly, but honestly, I will venture a guess that they may have a hard time producing many of the correct names for those objects now that they are older.
Conversely, when I was at a parent meeting many years ago and the religious education director held up an object to ask if any parents knew the name, I was the only one who indicated that I knew what it was called. Apparently, when you're the one who lights the thurible and gets to swing it at several Evensong services, you might still be able to come up with the name of it 20 years later.
Will it make your child holier that they know terms like ambo or thurible? Maybe not.
But, it might make them have a better understanding and appreciation for what is going on during the service or Mass, and that's a pretty wonderful benefit.
Post continues after this brief information about a monthly membership to help you live the liturgical year
---
Monthly Liturgical Membership
Perfect for families! Each month you gain access to printable activity pages, crafts, home altar pieces, and more.
Never has living the liturgical year been so easy and affordable!
---
Being an Altar Server May Encourage Future Religious Vocations
Sure, your child may not go on to a religious vocation in the future. Being an altar server may give them a chance to explore the idea though. In a 2013 study of seminarians by the United States Conference of Catholic Bishops, they found that two-thirds (or around 67%) of the respondents said they had been altar servers in the past.
Even if a religious vocation isn't in your child's future, being an altar server in their youth may encourage them to seek out roles in the Mass in their future by doing things like being a reader or an Extraordinary Minister of Holy Communion.
Being an Altar Server is a Chance to Meet Others from the Parish
Serving at church is a wonderful opportunity to get to know other parishioners. Some of my closest friends at church when I was a teenager were the other teens that I regularly served with. While I also went to school with some of them, there were some that I only knew from church. Being involved with things like youth group and altar serving with them solidified our friendships.
It's about more than just other kids, however. Through being an acolyte (remember – I was Episcopalian), I was able to get to know the priest, other adults who were involved in the service, and other parishioners. This happened especially because at my church there was a step to get down after going up for Communion, so one acolyte stood at each side to help anyone needing assistance, especially elderly parishioners.
Final Thoughts on Being an Altar Server
Again, I can't stress enough that the decision to become an altar server or acolyte should be a shared decision. I don't believe this is something that you should just tell your children they have to do. Of course, your parenting choices are yours to make.
However, I hope that these benefits might help spark a conversation with your children or even within your parish community.
5 Reasons Your Child Should be an Altar Server Printable Handout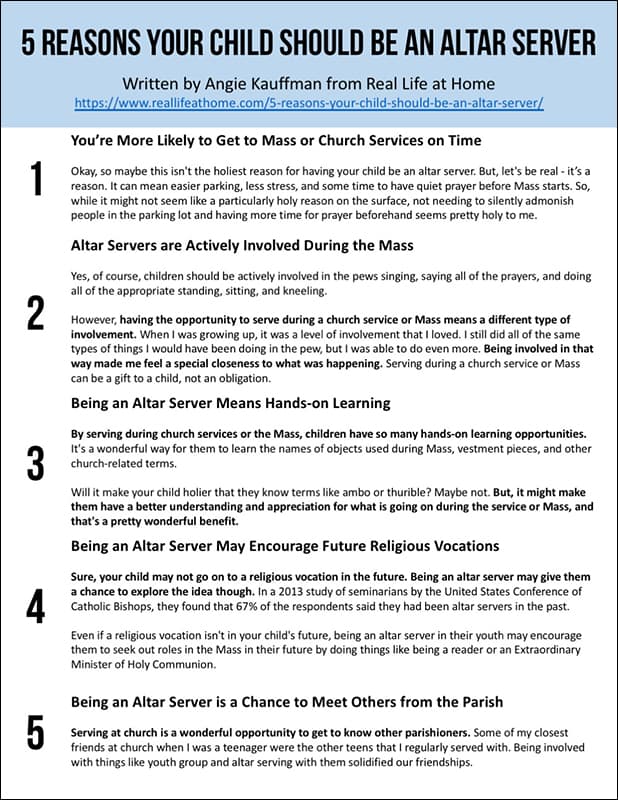 We've had a lot of parishes inquire about reprinting this article to put in their newsletter or to give to parents in their school or religious education program. While we don't normally allow posts to be reprinted, I decided to put together a printable handout from most of the information in this post for this purpose.
Terms of Use for the 5 Reasons Your Child Should be an Altar Server Handout
This printable is free for personal, classroom, and group use. It may be printed in a parish newsletter. (The URL for the post MUST remain with the information.) This printable may not be used for any commercial purposes. If you aren't sure if your use of them is allowed, just contact me to find out.
You may not host this printable on your website or any website or file sharing service. This includes that you MAY NOT host this on a church website for others to download from your site. (Sorry for the all caps there, but for some reason, there are a lot of churches that think it's okay to take other people's printables and put them on their site, unfortunately.) You may not distribute this printable via email or other electronic means. You may not use this printable and claim it to be your own.
If you have any other questions about the terms of use, please be sure to ask!
Download the 5 Reasons Your Child Should be an Altar Server Handout
In this download, there are three versions of this same printable. One with a blue strip on the top, one with a gray strip on top, and one without that strip. That way, you can decide which is best for your printing needs.
5 Reasons Your Child Should be an Altar Server Handout Download
Other Catholic Parenting Posts You May Enjoy:
---
Disclosure: This post contains affiliate links. They don't change the price you pay. However, when you shop through them, we may receive a small compensation.
Join 40,000+ Other Awesome People
Subscribe to the Real Life at Home weekly newsletter to get our latest content, exclusive free printables, learning activities, and ideas for celebrating with your kids all year