The following is a post from contributing writer Dianna Kennedy. 
Even your youngest students can appreciate the fun of the 4th of July.
Independence Day celebrations can be found all over the country, whether you're at home, at the beach, or traveling with your family.
Ready to garner great ideas for books, crafts, recipes and printables for the 4th of July holiday? Let's get started!
These sweet mice are busy having all sorts of Independence Day fun! Parades, picnics, fireworks and more can be found here!
Your little ones can start off with a firecracker mouse coloring page, and then move on to a fun dipped strawberry recipe!
This book is actually geared toward Flag Day (June 14th), but would be helpful in teaching your children about our American flag.
You can work on patterning with this adorable flag craft when you finish.
Looking for music ideas? Wee Sing America is perfect for patriotic holidays!
This sweet bear is a well loved favorite in our house — we have Valentine's Day, Easter, and birthday versions!
In this board book, Corduroy and his friends have a picnic, visit the pool, and take part in a Independence Day parade.
Looking for printables? 2 Teaching Mommies has a wonderful 4th of July Set.
For more ideas, visit Totally Tots for snacks and a fun shaving cream craft!
Your children will enjoy learning about the flag through rhyme with this book!
You'll score some cool mom points, plus your children will have something to wear to a parade if you're brave enough to tackle this 4th of July T shirt craft!

5. The Story of the Star Spangled Banner
Teach your wee ones about this classic patriotic song and its role in American history. This book even discusses proper etiquette for when the Star Spangled Banner is played.
You can create your own Independence Day Bingo cards for some preschool fun!
Work on fine motor skills with this sweet pipe cleaner lei craft.
This rhyming book for children covers the Constitution, Declaration of Independence and more!
You can pick up some pot scrubbers at the Dollar Store for a cool textured painting craft – making your own fireworks!
7. Happy 4th of July, Jenny Sweeney!
In this story, everyone in town is getting ready for the big 4th of July parade, including Jenny and her dog!
Get outside with this sidewalk chalk craft idea!
You'll also find a whole host of easy craft ideas for Independence Day at Enchanted Learning.
8. America Is …
Show your children why America is called the melting pot with this book. It discusses the fifty different states, mountains, swamps and deserts — all of what makes America unique.
I'm a total sucker for any kind of handprint crafts. We did this one during one of my daughter's American Heritage Girls meetings, and they turned out adorable!
9. The Story of America's Birthday
Happy Birthday, USA! Teach your little ones about our nation's rich history with this beautifully illustrated book.
This firework craft is sure to be fun for everyone!
10. Fourth of July, Sparkly Sky
With the bright colors and fun rhymes, this book is sure to capture your child's attention.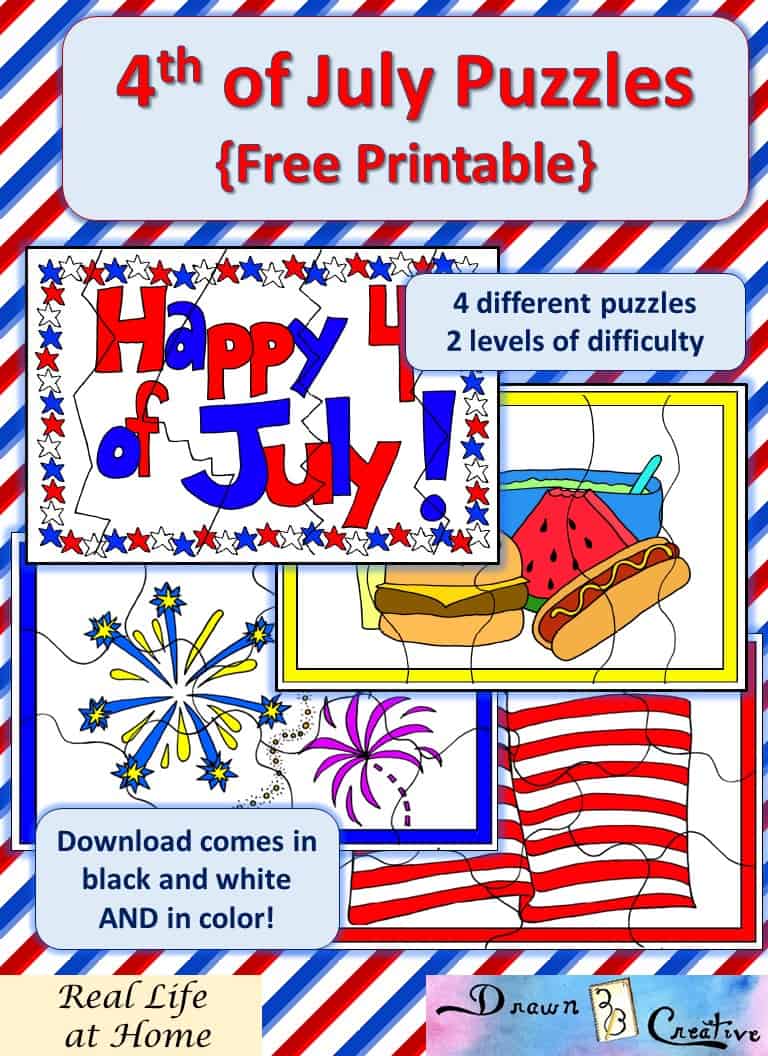 Free Printables: 4th of July Puzzles
Heading to a 4th of July party or picnic? Don't miss these adorable treat ideas!
Looking for more 4th of July ideas? Don't miss my Pinterest board!
---
This post contains affiliate links – thank you for your support!
Join 40,000+ Other Awesome People
Subscribe to the Real Life at Home weekly newsletter to get our latest content, exclusive free printables, learning activities, and ideas for celebrating with your kids all year