One of the many beauties of homeschooling is the opportunity to really assess your child's learning style so that you can teach them according to the way they learn best. And I believe it's also important, as their teacher, to figure out what teaching style you enjoy the most. If you are new to homeschooling, then this takes time. Enjoy this process and remember that it's okay to keep reassessing and reworking things until there is a good fit for everyone.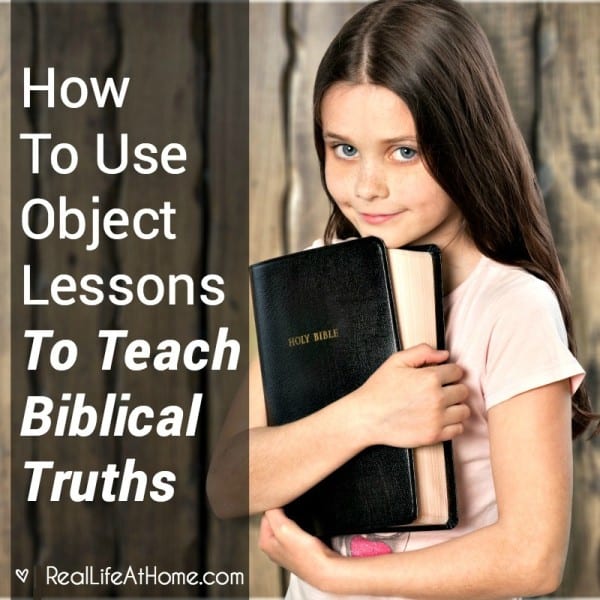 In our home, taking a hands-on approach to learning has become something I strive to center our homeschooling around. If I can engage all or most of their senses while teaching them any of their subjects, they are thrilled. And when they are engaged and I can see joy on their faces while in the process of learning, this mama takes joy in the teaching.
My teaching heart prefers to find real meaning and purpose in as much of our educational efforts as possible. So, if I can add an object lesson in to our studies, then every lesson is engaging and the lessons learned are better remembered.
According to FreeDictionary.com an object lesson is:
1. A concrete illustration of a moral or principle.
2. A lesson taught by using a material object.
 Why We Love Object Lessons:
Object lessons are easy to put together. We use everyday items found around our house and things found in nature to create memorable lessons.
They can easily be taught to all age levels, even at the same time. So, gathering the kids together, from toddler to teen works very well.
Many kids are visual learners, so using object lessons can be a very effective way for them to learn.
Object lessons can be used to introduce a topic of study or they can be the whole study.
Object lessons give us a point of reference and help us show our kids how to apply what they are learning. Kids remember concepts and ideas better when all of their senses are engaged.  Often my boys will refer to a lesson learned or I will refer to an object lesson we did a month ago and they can immediately recall the lesson and what they learned.
They can make a difficult subject much easier to understand, so that even younger kids can benefit and receive understanding at their own level.
We enjoy creating Bible studies using object lessons for "family nights" with Dad.
Object lessons peak the curiosity of reluctant learners and kids who are harder to reach, including those with learning disabilities like one of my own sons.
Both the Old Testament prophets and Jesus used object lessons to clarify and teach Truth often. Using everyday objects found around the house and in nature to illustrate the teachings of the Bible take our lessons to a deeper level and add greater impact. Jesus knew what He was doing! Often, it's the object lesson taught that will bring one of our boys to an ah-ha moment and my heart rejoices.
7 Free Online Resources for Faith-filled Object Lessons
Kids of Integrity: This Focus on the Family site is one of my new favorite sites as it offers families whole bible lessons on how to teach kids to live "God's Way." You can access the object lessons under the "Lessons" tab.
Creative Youth Ideas: This site exists to support youth leaders, youth workers and ministers of the faith. I would say we as homeschoolers fit in to those categories as we seek to share God's Truth with our kids. You'll enjoy the object lessons found here.
"Mad About Jesus" Laboratories: Another favorite of ours…this site shares scientifically based (think: science experiment) object lessons to teach biblical truths to children.
Christianity Cove: This site is all about leading kids to God's Love. Not only are there amazing object lessons here, but there are Bible lessons, games, devotions, crafts and service projects along with hundreds of inspiring articles to help you teach your kids about the Bible. I really appreciate this site.
Kid's Bibleland: This straightforward site offers 53 unique object lessons for teaching biblical Truths and stories of the Bible.
Creative Bible Study: God uses all kinds of objects around us to teach His message of Love. This site does a great job of showing you how to share that Love with your kids by patterning our teaching ways after God's.
If you liked this post you should check these out:
Join 40,000+ Other Awesome People
Subscribe to the Real Life at Home weekly newsletter to get our latest content, exclusive free printables, learning activities, and ideas for celebrating with your kids all year