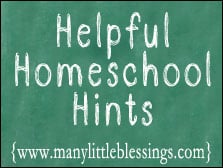 It's easy to spend tons of money on homeschooling.  From books to materials to workbooks to art supplies to classes to a million other things.  It can be overwhelming.
Another thing that can be overwhelming, but in a good way (I suppose), is the myriad of free resources for homeschooling online.  It amazes me how much can be found totally for free that would also be great additions to homeschooling.
Here are just a few great ones:
Donna Young's Homeschooling Resources and Printables – If you visit only one link in this post, this is the one to go see.  I have used so many of Donna's downloads.  It has been such a blessing to us!  (Her attendance calendars are my favorite.  Simple and effective.)
The Notebooking Fairy – If you like to do notebooking or are just thinking about it, Jimmie provides notebooking pages in a variety of themes and subjects.  (She even has an area where you can put in a request!)
Five J's – Not only does Joy have a fabulous blog (and do amazing design work), but she has been posting really awesome homeschooling resources on her blog.  (Look at the top and click through the "Homeschool Resources" drop down menu.)  I find myself downloading most of what she has been offering.  My personal current favorite is a weekly scheduling page that she posted recently.
Homeschool Share – When we were doing lapbooks (just a few) when we first started homeschooling, this site was such a blessing to me.  I love how many options there are for lapbooking and notebooking.
Amazon.com – Yeah, I know that this doesn't seem like something that should be on the freebie list.  However, there are tons of classics available free for the Kindle, which also means that it can be downloaded on things like an iPad or even a computer.  (Just go to the right side of the screen and click to see free books.)
An Old-Fashioned Education – This site has a fabulous list of free resources broken down by subject matter.
This is only the very tip of the tip of the iceberg.  So, what are some of your favorite free homeschooling resources online? What about your favorite inexpensive resources online?
***
Now it's your turn. Link up your homeschool hints post and make sure to link back here in your post.  You can read guidelines for Helpful Homeschool Hints, as well as get the button to display on your own site.  If your link is removed, be sure to check the guidelines to see why.
This post is also linked to Frugal Fridays.
Join 40,000+ Other Awesome People
Subscribe to the Real Life at Home weekly newsletter to get our latest content, exclusive free printables, learning activities, and ideas for celebrating with your kids all year