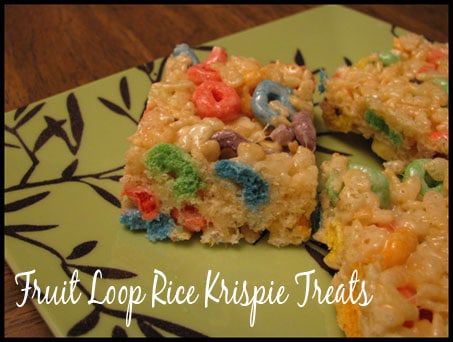 In October (of 2008, when this was originally published) when we went down to Eric's college for the day, we got to try out Fruit Loop Rice Krispie Treats and we loved them! Now, I will say, that people will either love these or hate them, that's my guess.
I took them to a church function tonight, and they went over really well. In fact, one of my friends insisted that I was going to be bringing them to our next get together.
This makes a pretty decent sized batch, so they are great for taking to a bake sale or a get together.
Fruit Loop Rice Krispie Treats
Fruit Loop Rice Krispie Treats Recipe
Ingredients
8

tablespoons

butter

16

oz

marshmallows

5 1/2

cups

Rice Krispies Cereal

5 1/2

cups

Fruit Loops
Instructions
Melt the butter and marshmallows in a large pot together. Keep an eye on it, while stirring occasionally.

In a large bowl, combine the two cereals. Gently mix to integrate them together.

When your butter and marshmallows have melted, remove from heat and quickly add in the cereal. Work quickly to mix these together.

Pat the mixture into a greased cookie sheet or jelly roll pan. Allow to cool.

Cut with sharp knife or pizza cutter. (I like to remove it from the pan first, in order to not scratch my pans.)
Enjoy!
This post was originally published on Many Little Blessings on .
Join 35,000+ Other Awesome People
Subscribe to the Real Life at Home weekly newsletter to get our latest content, exclusive free printables, learning activities, and ideas for celebrating with your kids all year