The following post is from Jamie of See Jamie Blog:
One of my favorite childhood memories with my dad was "helping" him build a sled from miscellaneous stuff in the garage on one of our rare Georgia snow storms. I don't know how much I actually helped — but I remember the sled-building as much as I remember the subsequent day of sledding. If you've never done a building project with your kids, I encourage you to try it. These sorts of projects are great for Dad to get in on the homeschool action, too!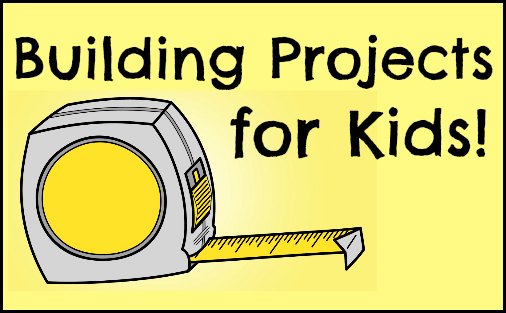 Building Projects for Kids
The easiest building project in this entire list: a catapult made from popsicle sticks and a milk cap! If we build this with my 5 year old, I know he will be playing with it ALL day.
I love the projects Lowe's Home Improvement does on weekends for kids. But did you know you can buy some of these kits to make at home? This wooden Tonka fire truck is so cool!
Perfect project for spring: an easy-to-build birdhouse made from wood scraps and a metal coffee can. Eco-friendly, too!
I love the character this little project has, especially if you can find old rulers to build it with.
This project has "boy" written all over it. Grown up boys, too; if my husband helps the kids build it, we might have trouble getting it away from him to let them play.
From the same site as the slingshot above (so many great ideas there!), this marble run is better for indoor fun.
Basic woodworking skills (plus adult supervision) can build an awesome jellybean or gumball dispenser.
My girls would enjoy all of these other projects, even the "boyish" ones. But I found a fabulous building project especially for the girls: a tutorial to build an American Girl style bed! There's also instructions in that same tutorial on how to convert this bed to a bunk bed.
If you want serious points as THE unquestionably coolest parent in the neighborhood, try building this project with the kids. One of the guys from Mythbusters decided this was easy enough to make with his kids! This is actually reasonable enough for teens to build. If nothing else, click the link to that tutorial just to watch the video clip of this thing in action!!
Which of these projects are you most likely to build with your kids?
| | |
| --- | --- |
| | Jamie is a homeschooling mama who never ventures far from a steaming hot mug of tea. Her kids range in age from preschool to adult, which means there's rarely a dull (or quiet!) moment in her home. Also find her on twitter and pinterest. |
Join 40,000+ Other Awesome People
Subscribe to the Real Life at Home weekly newsletter to get our latest content, exclusive free printables, learning activities, and ideas for celebrating with your kids all year