10 Bible Songs to Teach Your Children is a post from contributing writer Dianna Kennedy.

(This post contains affiliate links)
If you're a mother, you'll teach your children a song or two while they're small. Children often learn by repetition – like singing the same songs over and over!
It's never too early to lead our little ones to Christ with music. Let's make a joyful noise unto the Lord!
Want to entertain your children while you teach them the faith? I have a long list of favorites, but here are 10 Bible songs for children to get you started.
10 Bible Songs to Teach Your Children
This one is short and sweet – perfect to start off with your preschoolers. Give it a listen here.
Here is a set of free printable coloring pages to go with The B-I-B-L-E Song.
My boys LOVE this song, since they get to stomp around the house and act like soliders. They love brandishing swords and shields, off to fight the 'bad guys'.
DLTK Kids even has a printable version of the lyrics, complete with soldier in armor. Don't forget your shield!
This is the first song my children ask for at bedtime. I even change-up the lyrics, adding the verse,"Mary Loves You".
Trying to explain the depths of God's love for his children can be difficult. You can give children a visual with this song. These printable lyrics would be great on your bulletin board.
Taking its lyrics from Matthew 5:14-15, this tune encourages our children to be the light of Christ in the world. You can check out the hand movements here to teach your little ones.
Don't miss this craft to help your children recognize their gifts and how to use them.
Post continues after this brief information about a monthly membership to help you live the liturgical year
---
Monthly Liturgical Membership
Perfect for families! Each month you gain access to printable activity pages, crafts, home altar pieces, and more.
Never has living the liturgical year been so easy and affordable!
---
6. I've Got the Joy, Joy, Joy Down in my Heart
If your children have ever been to church camp or vacation Bible school, there's a good chance that they've heard this song. This song can go on forever, with about 10 different verses.
My children love the part about the devil sitting on a tack!
Teaching your little ones the teachings of Jesus? This song portrays the commandment of Jesus in John 13:34-35.
Ever had a day where you felt a little down? This song gives us a 'chin up', encouraging us to think about how God has blessed us.

9. The Wise Man Built His House Upon a Rock
Jesus taught in parables, and for children, parables are expressed beautifully in song.
This song tells the story of the wise and foolish builders found in Matthew 7:24-27.
For even more interactive play, print out pictures. You can color and laminate them, then use them on a felt board or cookie sheet with magnets.
10. Father Abraham
Get your kids up and moving with this rollicking song.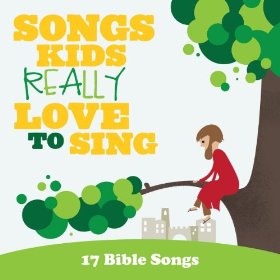 Need more ideas? I found this giant list over at Child's Bible Songs that includes all the lyrics. I made a YouTube playlist of Bible Songs for Kids. You can create stations on Spotify or Pandora, too.
I'd love to hear your favorites! Be sure and leave a comment so we can all expand our repertoire of great Bible songs for children!
Want more music resources? Check out these posts:
Disclosure: This post contains affiliate links. Using them doesn't change the price you pay. However, when you shop through them, we may receive a small compensation.
Join 35,000+ Other Awesome People
Subscribe to the Real Life at Home weekly newsletter to get our latest content, exclusive free printables, learning activities, and ideas for celebrating with your kids all year