I initially started working on this printable religious bookmarks coloring page as a color your own Holy Communion bookmarks printable for those preparing for First Communion. In the end, however, I ended up with these that are still perfect for those getting ready for First Communion, but are also great for anyone wanting a set of printable religious bookmarks to color.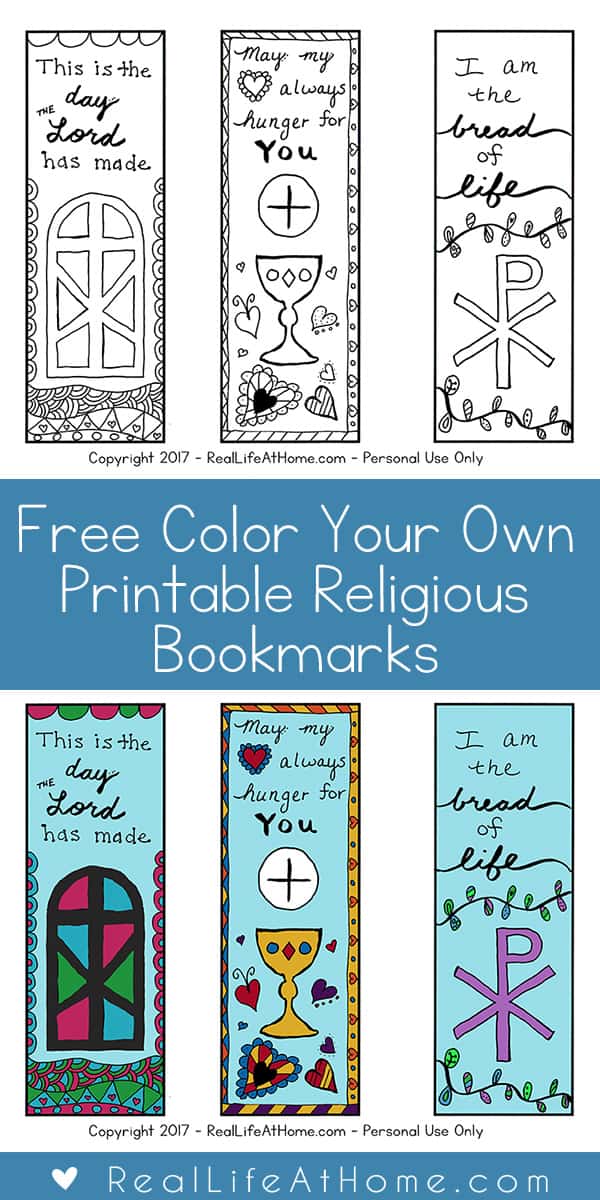 ="1″]
Free Color Your Own Printable Religious Bookmarks
This religious bookmarks printable includes three different bookmark designs. As I said before, they would be perfect as Holy Communion bookmarks, in addition to just being a fun religious coloring activity unrelated to Holy Communion.
The three doodle-style bookmark designs include:
A stained glass window with "This is the day the Lord has made"
A chalice and communion host with "May my heart always hunger for You"
A Chi Rho symbol (these symbolize the first two letters of Christ is Greek and are a familiar Christian symbol) with "I am the bread of life"
Need more printables and worksheets about Holy Communion? Learn more: Holy Communion and Reconciliation Printables and Worksheet Packet
Free Color Your Own Printable Religious Bookmarks Directions
="2″]
The free color your own religious bookmarks printable can be downloaded farther down in the post by clicking on the "download your free printable here" button.
This is a free instant download and does not require an email list opt in. However, if you like the free printables here, you might want to subscribe so you don't miss any!
You can decide if you want to give each child doing this project their own page or if you want to provide each child just one design.
These bookmarks are great for a variety of ages to color, since younger children can color in larger areas with the same color, while older children can do more precise and detailed coloring.
I would recommend printing this printable on either regular white paper or white cardstock. You should then consider laminating them (I love this inexpensive laminator) or using clear contact paper or self-sticking lamination sheets to laminate them.
Free Color Your Own Printable Religious Bookmarks Terms of Use
This download is free for personal, church, and classroom use. It cannot be sold, published, or hosted on any other websites. (Please do NOT upload it to your church website, personal blog, or the like. It's not only illegal, it's also just not nice.)
If you want to pass along the printable though, please feel free to share a link to this post (not directly to the printable) with others. Thanks so much!
If you use a lot of free printables from Real Life at Home, you might consider making a small donation or shopping for some of our paid packets.
Example of the bookmarks colored in.
Post continues after this brief information about a monthly membership to help you live the liturgical year
---
Monthly Liturgical Membership
Perfect for families! Each month you gain access to printable activity pages, crafts, home altar pieces, and more.
Never has living the liturgical year been so easy and affordable!
---
Free Color Your Own Printable Religious Bookmarks Download
 If you are having clarity issues with the printable, your web browser may be the issue. I have some ideas of how to fix it though!
="3″]
 First Holy Communion Resources for Catholic Families
There are tons of First Communion resources here on Real Life at Home. From printables to First Communion Banner directions (and a video!) to free announcements you can personalize to homemade First Communion cake ideas and more!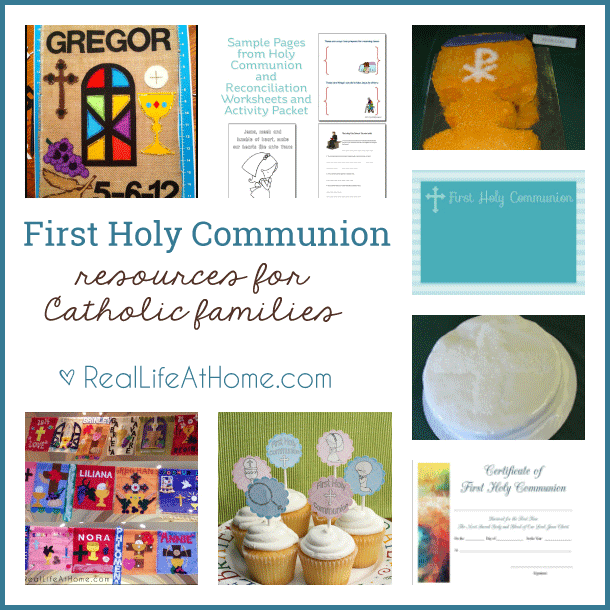 Mysteries of the Rosary Draw and Write Activity for Subscribers
You might like this 21 page packet with draw and write activities on all of the Mysteries of the Rosary. It's available for a very small amount, or you can download it free when you subscribe to Real Life at Home weekly newsletters.
If you are already a subscriber to the newsletter, feel free to click through on it and just enter the email address where you already receive the weekly newsletter.
Mysteries of the Rosary Draw and Write Activity Packet
Subscribe to our newsletter and receive the Mysteries of the Rosary Draw and Write Activity Packet!
Other Free Printables You May Love: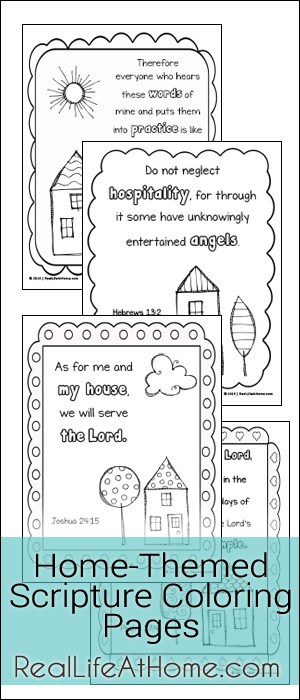 ="8″]
Join 40,000+ Other Awesome People
Subscribe to the Real Life at Home weekly newsletter to get our latest content, exclusive free printables, learning activities, and ideas for celebrating with your kids all year