The following post is from Homeschool Classroom founder, Angie Kauffman of Many Little Blessings and Catholic Printables Online
Working on opposites (antonyms) with your kids?  Here's a two page opposites worksheet printable packet to work on identifying opposites in two different ways.
On the first page, you can match up the opposites on each side.  The second page includes sentences with one word underlined and then you need to fill in the word's opposite (from the word bank).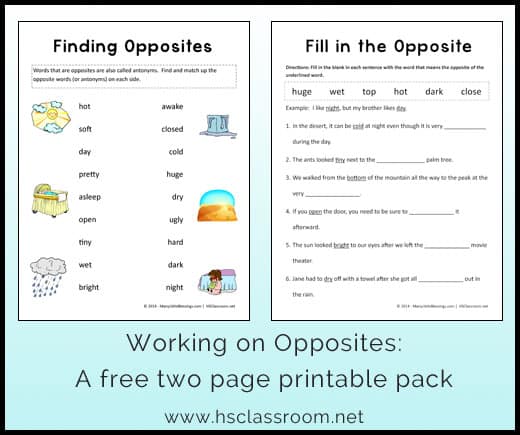 Terms of use: This download is free for personal and classroom use. It cannot be sold, hosted, or published on other websites. Thanks!
*If you are having clarity issues with the printable, please right click on the image and choose "Save Link As" and download the document to your computer. Then, open it from your computer, rather than through your web browser's PDF viewer. Another option is to just try to open the printable in a different web browser. Thanks!
Join 40,000+ Other Awesome People
Subscribe to the Real Life at Home weekly newsletter to get our latest content, exclusive free printables, learning activities, and ideas for celebrating with your kids all year