Here's a fun printable Holy Communion crossword puzzle for Catholic kids. It's great both for children who are preparing for First Communion as well as those who are already receiving Communion.
="1″]
Holy Communion Crossword Puzzle Free Printable
This printable (and the post) are both from all the way back in 2013. However, I am not only updating the post, but I also made a couple of updates on the Holy Communion crossword puzzle free printable to make it more accessible to a larger age range.
In order to make it a perfect First Communion crossword puzzle, as well as being a great fit for older students to use as a worksheet or activity while talking about Holy Communion, I have two version of the printable. Although the puzzles and clues are the same in both puzzles, one version features a word bank at the bottom of the page and the other version does not have a word bank.
Need more printables and worksheets about Holy Communion? Learn more: Holy Communion and Reconciliation Printables and Worksheet Packet
Holy Communion Crossword Puzzle Printable Directions
Fill in words down and across using the clues given. If you (or the person doing the puzzle) needs help with the words, I have provided a word bank at the bottom of the page of one version of the printable.
For students needing a harder version of the puzzle, make sure to download the version without the word bank.
Of course, if you have a mixed group of students and only want to worry about downloading and printing out one version, you can just print out of the version with the word bank and simply cut off the word bank at the bottom of some of the pages.
In both downloads, there is a solution to the puzzle on the second page.
="2″]
Holy Communion Crossword Puzzle Printable Terms of Use
This download is free for personal, church, and classroom use. It cannot be sold, published, or hosted on any other websites.
If you want to pass along the printable though, please feel free to share a link to this post (not directly to the printable) with others. Thanks so much!
If you use a lot of free printables from Real Life at Home, you might consider making a small donation or shopping for some of our paid packets.
Post continues after this brief information about a monthly membership to help you live the liturgical year
---
Monthly Liturgical Membership
Perfect for families! Each month you gain access to printable activity pages, crafts, home altar pieces, and more.
Never has living the liturgical year been so easy and affordable!
---
If you need more First Communion and Reconciliation printables, be sure to check out the Holy Communion and Reconciliation Worksheet and Activity Packet.
Holy Communion Crossword Puzzle Free Printable Download
---
---
If you are having clarity issues with the printable, your web browser may be the issue. I have some ideas of how to fix it though!
First Holy Communion Resources for Catholic Families
There are tons of First Communion resources here on Real Life at Home. From printables to First Communion Banner directions (and a video!) to free announcements you can personalize to homemade First Communion cake ideas and more!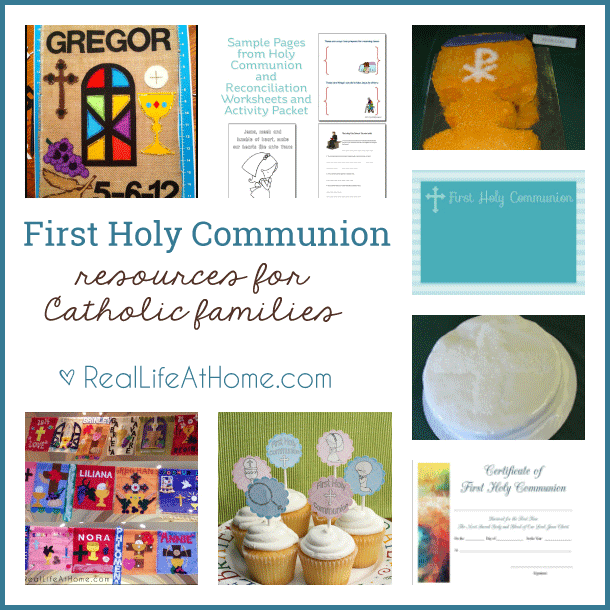 ="3″]
Mysteries of the Rosary Draw and Write Activity for Subscribers
You might like this 21 page packet with draw and write activities on all of the Mysteries of the Rosary. It's available for a very small amount, or you can download it free when you subscribe to Real Life at Home weekly newsletters.
If you are already a subscriber to the newsletter, feel free to click through on it and just enter the email address where you already receive the weekly newsletter.
Mysteries of the Rosary Draw and Write Activity Packet
Subscribe to our newsletter and receive the Mysteries of the Rosary Draw and Write Activity Packet!
Join 40,000+ Other Awesome People
Subscribe to the Real Life at Home weekly newsletter to get our latest content, exclusive free printables, learning activities, and ideas for celebrating with your kids all year