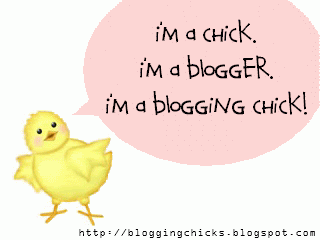 Just a quick post to highlight something new near the bottom right of the blog — I am now on the Blogging Chicks blog roll! If you are a chick with a blog, *you* might be interested in the blog roll as well!
Oh, and speaking of blog rolls, I will be working (very soon) on that promised blog roll for Catholic women! So, keep posting to me to let me know if you will be interested in joining once I get it started up (hopefully by early next week). I'm really excited about this, and so if I could only come up with an appropriate name for it, I would be set. LOL Oh…the pressure.
Speaking of the blog roll that I am working on, I received a comment on my original post about the possible blog roll questioning why, if I was upset about an only Protestant blog, would I start an only Catholic one. First — let me say — I never said I was upset about the other one. I apologize if it sounded like that at all. It was just a catalyst to think of starting a different one. But, if you would like to read in depth about my response to that comment/question, I wanted to invite anyone to read that comment (you'll have to scroll down to my huge reponse). I only link to this all because I didn't want my idea or intentions to be skewed or misunderstood.
Okay — so…check out the blogging chicks, and also let me know if you are a Catholic woman who blogs who is interested in the blog roll. (Oh, and if you are divinely inspired to come up with a name, feel free to drop me ideas as well. I have some ideas, but could use more!)